Best Places to Visit in Zanzibar
In Zanzibar, you can find some hidden treasures that are not terribly well-known. There are plenty of secluded beach destinations to enjoy, including Prison Island, Ngezi Forest, and Livingstone House. You'll have a unique African island experience if you choose to visit Zanzibar.
Livingstone House
Livingstone House is one of the most important places to visit on the island. This is the home of the famous naturalist and explorer. The house was built by Livingstone in 1866 and it has been renovated to showcase the history of the area. Visitors can view Livingstone's personal belongings and find out more about his life. He was born in 1821 in Blantyre, near Glasgow, Scotland. He was the second of seven children. At the age of 10, he worked at a cotton mill, tying broken cotton threads on the spinning machines. In 1864, he went to the Blantyre village school, where he gained an education in natural history.
The livingstone house is a three-storey building with small windows and red tiles. Built in 1860, it served as the headquarters of explorers in East Africa. It was also the home of David Livingstone before his expedition to the mainland. The building was purchased by the government in 1947 and today is the headquarters of the state tourism corporation in Zanzibar. It offers tours and excursions for tourists.
The Livingstone House is one of the best places in Zanzibar to learn more about the history of the island. Visitors can learn about the slave trade by hiring local guides to visit the slave market, caves, and champs. However, if you are looking for an experience that will really immerse you in the history of slavery, you should head to the Mangapwani Slave Chambers, which is located 12 miles away from Stone Town.
Old Fort
Zanzibar is a largely Muslim island that has been a center of trade for centuries. The island has changed hands many times, from Arabs to Europeans. Its historic capital, Stone Town, has plenty of historical sights to see, and many places to stay.
The Old Fort is the oldest building in Stone Town, dating back to the 17th century. It is adjacent to the House of Wonders, the former palace of the Sultan of Zanzibar. This ancient fortress also contains ruins of a former church. The Old Fort is free to visit and is often the site of cultural festivals.
Despite the fact that this old fort is crumbling and is not accessible by car, it is still an incredible place to explore. Take a boat trip or half a day to explore it all. While you're there, make sure you visit the museum dedicated to the slave trade.
If you're looking for an interesting and culturally relevant place to stay in Zanzibar, consider staying at the Al-Minar Hotel. It's a gorgeous Arabian-style building and just five minutes walk from the beach. The rooms are decorated in African style and have mosquito nets. You can enjoy a complimentary breakfast at the hotel each morning.
Ngezi Forest
The Ngezi Forest is one of the last remaining primary forests on the island of Pemba. It is home to many species of plants and animals, including monkeys. It covers an area of about 3600 acres. There are many bird species that call the forest home, including the Malachite kingfisher, crowned hornbill, and Pemba white-eye.
The best way to get around the island is by mountain bike. Some hotels offer bikes to rent at a nominal fee. This is the perfect way to explore the island's fishing villages and beaches. You can also take a boat trip to some of the island's secret coves and hidden beaches.
The island is also home to several interesting cultural festivals. One of the most popular is the Sauti za Busara festival, which takes place every February. This festival features dozens of talented African musicians. Another popular event is the Zanzibar International Film Festival, which is the largest film festival in East Africa. The festival highlights the best of the arts and culture in Zanzibar and celebrates its diversity.
Zanzibar is famous for its incredible marine life. Its history has a deep connection to the slave trade. It is possible to go snorkeling at Mnemba Island, which has amazing marine life. Visitors are also allowed to take photos with the turtles.
Prison Island
If you are planning a day trip in Zanzibar, you should consider a visit to Prison Island. It's a gorgeous, uninhabited island with a tropical climate, so it's a great place for sunbathing and swimming. You can also go snorkeling to see the colorful fish and coral life that live in the surrounding waters.
The Prison Island tour takes you to an island that is just five kilometers north of Stone Town. It used to house prisoners, but now you can see a tortoise sanctuary and ruins of a former prison. The tour can be combined with a visit to Stone Town, where you can see the Cathedral Church and the Slave House. You can also spend some time shopping on the island.
Another fascinating place to visit in Zanzibar is Prison Island, also known as Changuu Island. It was once a prison for slaves and was also used to quarantine people with yellow fever. Today, this island is home to giant tortoises and beautiful marine life.
Cheetah's Rock
If you're planning to visit Zanzibar, you'll want to check out Cheetah's Rock. This unique animal conservation center allows you to get up close and personal with cheetahs and other wild animals. The animals live in large enclosures where they are fed and exercised daily. They are also not put through harsh physical treatment or drugs, and tourists can take photos with them.
Cheetah's Rock is a great place for families, but it is not recommended for children under the age of 15. You may want to choose another tour if you are not fond of animals. You can also opt for a Spice Tour or Sunset Tour if you're less adventurous. One of the package options includes a tour of the jungle, swimming in a cave, and traditional dancing.
If you're traveling in October, the temperature in Zanzibar is 75 F (23 C) – 91 F. The average rain is more than two inches, but the weather is warm enough. Visitors should pack lightweight clothes and swimwear, as well as sunscreen. Cheetah's Rock is also a good choice for this time of year. Here you can see monkeys up close and interact with them.
Turtle Aquarium
Turtle Aquarium is one of the best places to visit in Zanzibar. This aquarium is located near the white lighthouse in Nungwi. It is a community project dedicated to the protection and rehabilitation of sea turtles. During your visit, you can observe these creatures swimming in a lagoon and even feed them. The turtles are very gentle and do not hurt you at all.
Visiting this centre means getting to see hundreds of baby turtles. You will be able to feed them, and they will run after the food you offer. The trip is between thirty and fifty dollars and will take about half a day. You can hire a driver to take you there. The best time to visit the center is before the tide covers the lagoon.
Chumbe Island: You can also visit Chumbe Island, which was the first marine reserve on the island. The island has pristine reefs, making it a great place to go diving. The island is also a home to several rare birds and turtles. The aquarium is located in a protected area with a variety of habitats for turtles.
Kendwa Rocks full moon party
For a wild night out, head to the legendary Full Moon Party at Kendwa Rocks Beach Hotel. This annual event takes place on the first Saturday after the full moon and is free for hotel guests. If you're not a hotel guest, you must pay an entrance fee of 20,000 Tshs. This event also raises funds for the Swahili Music Festival. The beachfront location of Kendwa Rocks Beach Hotel makes it easy to access from anywhere on the island.
The party itself is not only a night out on the beach, but also a night out for those who would like to dance until the sun comes up. The nightlife scene is filled with music and dancing, and you'll find plenty of people celebrating the full moon. If you're staying in Kendwa, it's a good idea to arrive early for the full moon party. Otherwise, you can spend the night at the beach and relax.
Kendwa is located on Zanzibar's Unguja island, around 3 km from the main town, Nungwi. Although the location may seem remote, it's actually close enough that you can walk to Nungwi if the tide is low enough. In addition, there are plenty of accommodations here, which means that the town doesn't feel too crowded.
Best Volunteer Programs in Zanzibar
Volunteers will be able to make a significant difference in the lives of the locals. Often, they are asked to work in an orphanage, which is an emotional experience, but volunteers are given full training to help the children in the community. They are also supported by other volunteers from around the world.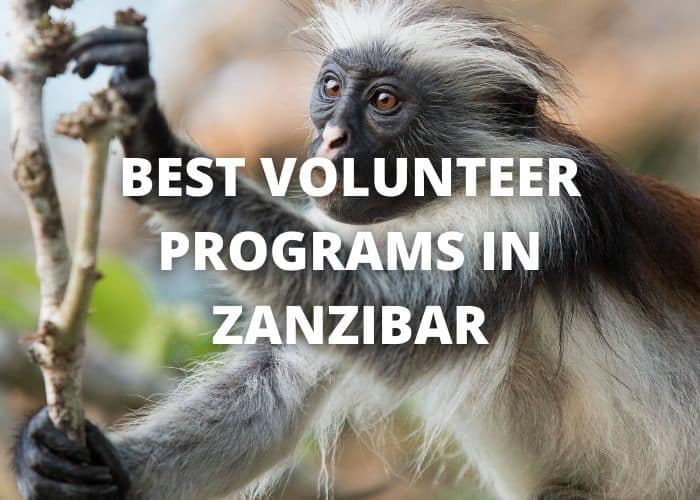 Amani Hostel
While it looks like a luxury hotel, the Amani Hostel is a backpacker's paradise. Located on the beach, this property has a hip and bohemian feel that will appeal to those looking to escape the crowd. The hostel offers free Wi-Fi, breakfast, and bunk beds for guests to enjoy. It is also a good choice for solo travelers.
Volunteers with Amani Hostel can choose from a variety of volunteer projects to benefit local communities. Projects range from caring for orphans to teaching English. There are also many opportunities to engage in cultural experiences. Volunteering with Amani Hostel gives you the opportunity to immerse yourself in the local culture while helping those in need.
Zanzibar is home to world-class snorkeling, scuba diving, and marine-spotting opportunities. The island has unique cultural attractions and fascinating wildlife. Whether you prefer to observe the island's giant tortoises or snorkel around the reef, Zanzibar has it all.
Volunteers who are responsible and willing to put in the time to work will also be able to take part in thrilling game drives. This is one of the best volunteer programs in Zaanzibar for those who are looking to help out the locals.
International Medical Aid
Medical Volunteer programs in Zanzibar give you the chance to work alongside local healthcare professionals in the region. You can choose to assist in community clinics, office work, and even HIV/AIDS awareness in local schools. You can also apply if you are a student and want to work with young people in a developing country. Volunteers can benefit from discounted rates if they are part of a group.
Some projects are based in Stone Town, while others are located in villages or rural towns. You may also have the opportunity to work on marine projects in Kizimkazi. Orientation includes a presentation on the project's goals and the local community. You will also meet your co-coordinating project team, which will introduce you to the project site.
International Medical Aid volunteer programs in Zanzigar are open to medical students and professionals from all backgrounds. Volunteers can focus on a number of different departments and will be compensated by the organization. Programs can last as short as two weeks or as long as six months. To apply for one of these volunteer programs, you should apply directly to a local NGO. It is important to be at least seventeen years old and have completed a police check if you intend to work with children. Moreover, you must be adaptable and willing to overcome new challenges.
Programs are available in a variety of fields, including nursing, physical therapy, midwifery, dentistry, pediatrics, and more. You can choose a program according to your experience and availability. Many programs last for two to twelve weeks, and can be tailored to suit your own schedule.
Volunteering for International Medical Aid in Zanzibar will give you the chance to put your specialized skills to use in the local community. With a small donation, you'll be helping people in need in a fun, exotic environment. Volunteers will help to improve the lives of local people and help to develop better health care systems. The COVID-19 pandemic has left many healthcare systems stressed.
Whether you'd like to work in an urban clinic or a rural area, you can make a difference by joining one of the many volunteer programs in Zanzibar. Volunteering in Zanzibar is a safe and affordable way to make a difference in a developing country.
Projects Abroad
There are many different types of volunteer programs in Zanzibar. These programs can be both educational and hands-on. Some of these programs are free, while others charge a fee. Most programs are based in Stone Town, a UNESCO World Heritage site, while others are located in nearby villages and towns.
Many volunteers in Zanzibar work with local schools, or participate in educational and environmental projects. They can teach English to local children or help with women empowerment in the village. Some volunteer projects also involve working with a local women's cooperative to build chicken coops that help families have a sustainable source of food.
Volunteers can teach English at a local primary school or secondary school in Zanzibar. Many primary school students have to pass an English exam to enter secondary school, and native English-speaking volunteers are crucial in helping them succeed. Volunteers will also help with general work such as preparing lessons, assisting teachers and students with general work, and implementing new teaching methods.
Projects Abroad has several volunteer placements in Zanzibar that are suitable for volunteers of all ages. The volunteer placements last a minimum of a week or a month, and homestays, shared housing, and private accommodations are available.
The GIVE adult volunteer program is ideal for travelers over 40. It provides an educational and meaningful volunteer experience in Zanzibar. Volunteers will work with local communities to build schools and teach English. Additionally, they'll also have the chance to participate in an exciting and adventurous safari in the African Savanna. At the end of their Tanzania trip, they'll climb Mount Kilimanjaro.
Volunteering Solutions
Volunteering Solutions in Zanzibar is a highly regarded volunteer placement organization. Its programs allow you to interact with the locals and gain a deeper understanding of the culture. These programs also cover food and accommodation. In addition, you will have some free time during which you can explore the island and participate in cultural activities. Volunteering Solutions also provides travel assistance and offers tours to help you get the most out of your experience.
Volunteers can begin their volunteer project on the island's south coast, in Mkunguni. This village is approximately 90 minutes from the city and the airport. Their schedules generally start at 7:30 in the morning and end around 12:30 in the afternoon. These hours may vary slightly depending on the activities they have planned. Accommodation is provided in a volunteer house.
Volunteering in Zanzibar is a great way to experience a unique part of the African continent and experience a completely different way of life. You can make a real difference and see some of the island's most beautiful sites. You will even have the opportunity to volunteer in the healthcare sector.
Volunteers can also work on local projects like building schools. This is one of the largest projects in Zanzibar, and your efforts will make a real difference in the lives of locals. Volunteers will be able to see the physical results of their work and will leave a lasting impact for many years to come.
Volunteering in Zanzibar will give you a unique opportunity to meet the local people and learn about their culture. Volunteering in an orphanage is especially rewarding, as you will be helping children who are suffering from poverty. The volunteer work will come with full training, and you will be working alongside other volunteers from different countries.
Volunteering in Zanzibar is an opportunity to help the local community. It is an island off the coast of East Africa with very few tourists. The people are hospitable and welcoming. In this environment, the importance of respect for the environment and natural resources is emphasized.
Why volunteer in Zanzibar?
A trip to Zanzibar is a great way to experience a different part of Africa and give back to the community. This island in the Indian Ocean is a semi-autonomous region of Tanzania. It comprises two large and many smaller islands. Volunteers are needed to help with many different projects.
Volunteers can help to care for animals. Zanzibar is home to a number of small villages, most of which have no electricity or water. Volunteers can help by providing basic animal care for local animals and educating the locals about animal husbandry. Volunteers can also help with the conservation and protection of the environment.
Zanzibar has ideal weather conditions for most of the year. Although it can get hot at times, the sea breezes provide cooling relief. There are seven to eight hours of sunshine each day. Rainfall can happen occasionally, but it is brief and light. The rainy season usually occurs in April and May.
Zanzibar's cultural heritage is one of its main attractions. The island's oldest town, Stone Town, is a UNESCO World Heritage Site. Its historic buildings and cobblestoned alleyways are a must-see. The Zanzibar International Film Festival, also known as the Festival of the Dhow Countries, showcases the Swahili Coast arts scene. Taarab, the local form of Arabic music, is popular in Zanzibar.
Volunteering in Africa is a great way to meet new people and build lasting friendships. It is also a great team-building experience. Volunteers can work with local people in rural areas or underprivileged communities. Volunteers can also work on projects that help to conserve wildlife. In some countries, volunteers can work in clinics or hospitals. In others, they can carry out marine research.
Why Travel to Zanzibar?
Volunteering in Zanzibar can be a fulfilling experience. It is the perfect opportunity to give back to the local community and to experience a truly East African lifestyle. It is also a great way to meet like-minded people from all over the world. You'll be able to develop relationships with locals while helping out with community development projects. You'll also have a chance to experience the local culture firsthand.
Zanzibar has many unique attractions, including the ancient city of Stone Town. Stone Town is the oldest part of the island and has a rich history. It was named a UNESCO World Heritage Site in 2000. There, you'll be able to see monkeys, bush pigs, and thousands of birds.
Volunteers in Zanzibar can also explore the local spice market. Spices have been the island's most lucrative trade for centuries. You can go on a spice tour with a local guide to learn about the spices that make up the island's traditional food. You can also learn about the history of spice traders and the growing demand for these products throughout the world.
Volunteer Opportunities in Zanzibar
Volunteering in Zanzibar is a fantastic way to help local communities while also enjoying the stunning scenery. Depending on the program, you can be involved in a variety of activities and projects, such as marine conservation or education. Most programs are based in Stone Town, the island's vibrant port city. Volunteers have the opportunity to experience the local way of life and learn more about the local culture.
You can choose to help out at a local school, assist with teaching English or creative arts, and train locals to perform various tasks. You will also be able to help the local community by helping them find work in the tourism industry. Volunteers also have the opportunity to maintain the beauty of the island, such as by planting trees.
Volunteers in Zanzibar can also work with local teachers to help improve education for underprivileged children. This is an opportunity to help the local community while enhancing their education and promoting women's empowerment. Volunteers can also help with the creation of chicken coops for rural families, which can provide a stable source of food and income.
Why join Volunteer Programs in Zanzibar?
If you are looking for a rewarding trip, consider joining one of the volunteer programs in Zanzibar. This eastern African island offers many unique opportunities for volunteers. From working with local communities to participating in environmental conservation projects, Zanzibar offers a rich variety of experiences.
While Zanzibar is mostly a Muslim island, the local population is extremely welcoming and friendly. You will be able to experience the culture and traditions of the locals in a truly immersive way. As a volunteer, you will learn to respect local customs and beliefs, and become accustomed to local time and weather.
Volunteers in Zanzibar will receive three meals a day, which are cooked using local ingredients. You'll be able to sample the local cuisine, which includes seafood, meat, and vegetarian dishes. You will also get to try the local 'chipsi' (fried pancakes), as well as local favorites like tea and toast. On weekends, volunteers will have free time to explore the island, explore the beautiful reefs, or just relax.
If you're an animal lover, you'll love working on a wildlife conservation project. Volunteers can help protect wildlife, clean beaches, and work with local communities. Some projects involve going out to the ocean to see dolphins and whales. You'll also have the chance to work with local communities and stay in beach bungalows, so you can enjoy both nature and the beach.
Volunteers are welcomed into local villages and help with the education of local children. They can help the locals learn English and other creative skills. They can also help refurbish rundown schools. Volunteers can also help locals find jobs in the tourism industry. Lastly, volunteers can clean up the local beaches and plant trees.
Best Time to Visit Zanzibar
There are a number of different reasons for visiting Zanzibar. Holidays are popular, as are international and expat vacations, though the island is closed for the Islamic holy month of Ramadan. Alternatively, you can visit the island for sport and participate in the Zanzibar International Marathon, held in early November.
November
November is the best time to visit Zanizibar as it has a warm and pleasant climate. In this month, the island receives an average of 200mm of rainfall, and daytime temperatures are 28degC, though they can soar to 35degC in the north and on the northern coast. However, during this month, the kaskazi winds pick up and the seas can get rough in certain parts of the island. However, if you're keen on snorkelling, then November is the time to visit.
November is the best time to visit Zanizibar if you're planning to stay for a long time. The price of hotels and other accommodation are much lower in November than in December. Prices start to rise in mid-December as the holiday season approaches. Also, many hotels will have minimum stay requirements during this time.
The climate on Zanzibar is tropical. In the dry season, temperatures are around 26degC. However, there are a few months of rainfall throughout the year. The main rainy months are March, April and May, which bring long, hot rains. The rainy season is also the best time to visit Zanzibar if you want to experience whale sharks in their natural habitat.
December
The best time to visit Zanzibar depends on your preferences. The weather will be hot and the tourist footfall will be high. However, December is the least busy time and you can get good deals on hotels and airfares. December is also the holiday season, so expect fewer tourists and lower prices.
Zanzibar has two seasons: the dry season, which lasts from July to September, and the rainy season, which occurs from December to February. During these two seasons, the average temperature is 27 degrees Celsius, and the days are bright and sunny. The average rainfall is 401mm. Because Tanzania lies close to the equator, it has nearly 12 hours of daylight each day. You can enjoy the beach and swim all day long!
Zanzibar is a popular destination during the holiday season. During the holiday season, the prices are lower, and you can enjoy the island's weather without paying full price. However, be prepared to spend more money on your vacation if you plan to stay for an extended period of time. Many hotels offer special deals for long-term stays, so you should plan your trip accordingly. Some hotels also have special holiday events and dinners.
March
March is the hottest month in Zanzibar. However, temperatures are usually high throughout the year. The average high temperature is 27degC, and the Indian Ocean is warm and perfect for bathing. The island experiences two seasons: a dry season and a wet season.
The wettest months are April and May. In April, the island experiences heavy afternoon rains. In November, the rains are lighter and less frequent. However, the dry season from June to October is the most pleasant time to visit Zanzibar. Temperatures in March range from 21degC to 29degC and the seas are calm.
The dry season in Zanzibar runs from June through October, which coincides with the safari high season in Tanzania. This is also the best time to swim with dolphins and try exotic tropical fruits. However, the rainy season from mid-March to April can be very wet and many lodges are closed.
June to October are the driest months. However, temperatures can fluctuate according to location and wind. However, the temperatures remain warm and sunny for most of the year. During the first month of the rainy season, temperatures are higher than in March. However, the rainy season does not last for long, so the temperatures remain steady.
April
If you'd like to experience the sun and sand of Zanzibar, April is the perfect time to visit. Although the island experiences long rains in April and May, the rainy season in this tropical island is less intense than it is in other seasons. As a result, the weather during this time is still warm and wet, but not as wet as it would be during other times of the year. April is also the time to experience the most spectacular sunsets over the Indian Ocean.
From mid-March to late May, the island enters its 'long rains' period. The rainy season brings high humidity, but a cool breeze. The seas are less chilly than in other months, and you can enjoy a lazy day lazing in the lagoons and eating at some of the many restaurants in the islands. During this time, you may also spot dolphins off Ras Kizimkazi and whale sharks around Mafia Island.
The dry season in Zanzibar runs from June to October. This coincides with the high season for safaris in Tanzania. In April and May, temperatures are pleasant and ideal for sunbathing and water sports. During the dry season, scuba diving and snorkeling are best done. However, many lodges close for the wet season from mid-March through May, so you may want to book your stay in the summer or fall, if possible.
May
The best time to visit Zanzibar is during the wet season between May and August. Flights and accommodation can be expensive during peak season, so booking your flight during off-peak times is recommended. Also, there are some notable festivals held in Zanzibar during these times. You can catch Sauti za Busara, one of Africa's most popular music festivals, and the colourful Mwaka Kogwa festival, which is celebrated by seven villages on the island. This festival coincides with the Shirazi New Year, which has its roots in ancient Zoroastrianism. You can take part in these events and enjoy the traditional food and music of the island.
May is one of the warmest months on the island, but there are also some days of rain, and temperatures can climb to 34/36degC. During the wet season, the rains are less frequent, but the humidity is still high. Luckily, the trade winds from the southeast help temper the heat. Average temperatures are 29/30degC, and the amount of sunshine is good throughout the year. You can also take part in scuba diving during this time.
May is also the rainiest month, which is a bit of a bummer if you're planning to do anything outdoor. However, if you want to get the most out of your trip, this is probably the best time to visit Zanzibar. Although it will be a bit rainy, the days will still be warm and the weather will be perfect for soaking up the culture. You'll be able to enjoy most activities and spend less money on accommodation and food. You'll also get to enjoy the best sunsets, especially over the Indian Ocean.
Dry winter season
The best time to visit Zanzibar depends on what you want to do. There are two distinct dry seasons in Zanzibar, which last from December to February. You can also expect some rain. This time of the year is popular with tourists, as children are not in school. If you're traveling with kids, you'll want to plan your trip during this time, as many hotels cater for families.
There are some advantages to visiting Zanzibar during this time. The island doesn't get overly hot or cold, and the weather is mostly pleasant throughout the day. During the dry winter months, temperatures rarely drop below 26 degrees Celsius. You can also experience occasional rains in the months of August and September, but the weather is mostly sunny. The temperatures can even reach 37 degrees, making them ideal for relaxing on the beach.
You can also visit Zanzibar between June and October, when the weather is warm and dry. These months are best for swimming, snorkeling, and other beach activities. The winter months also offer lower rates, so it's a great time to book your trip.
Monsoon season
Zanzibar has two distinct seasons, with a wet and a dry season. The dry season runs from December to February and is the ideal time to visit the island for the best weather. This season is ideal for beach activities, snorkeling, and scuba diving.
Monsoon season in Zanzibar falls between July and August. Water temperatures here range from 25 degC in August to 30°C in March. There are also two distinct seasons, which can be very different depending on your preferences. During the wet season, water temperatures are warmer, and you can enjoy swimming in the warm Indian Ocean.
The main rainy season lasts from March to May. The rains are frequent and heavy, but usually last fifteen to thirty minutes. Temperatures can be in the low-to-mid 30s degrees throughout the day. In between, there's a dry season from June to August, which sees the temperature range from low to mid-thirties. There are also short rains in November and December, which are lighter and less frequent.