Best Time to Visit the Philippines
The spring months in the Philippines have a mild climate and are dry and warm. This is the best time to visit the country to visit natural landmarks and get away from the rainy season. Beach hopping is also a great activity during this time. The warm water and stable winds make it the perfect time for water sports. However, keep in mind that spring is also the busiest time of the year in the Philippines. Many popular destinations may be fully booked.
December
If you're looking for a tropical getaway, December and January are the ideal months for your Philippines vacation. The Philippines' cooler climate makes island hopping and exploring untouched natural areas easy, and the weather is typically sunny. Moreover, the Philippines' winter season is mild, and you'll be able to enjoy plenty of time on the beach.
While December is technically high season, it's still less busy than the summer months. There are fewer tourists in popular destinations, so you can enjoy the beaches and pristine coral reefs without battling crowds and excessive heat. It's also a great time to go island hopping in Coron, El Nido, Bohol, and Cebu. Moreover, December is the perfect time to catch the Christmas celebrations in the Philippines. Locals begin preparing for the festive season as early as September, and the festivities continue through December.
If you're looking for a tropical getaway, December and January are ideal for beach vacations. The Philippines' northeast monsoon is perfect for island hopping, and waves are typically lower than other months. In addition, Christmas is celebrated as early as September in the Philippines, so you can enjoy Christmas markets, light shows, and Christmas bazaars.
January
January is the dry season in the Philippines, which means that the country experiences the least humidity and the best temperatures. The weather is also ideal for hiking in the northern municipalities and diving in Siargao and El Nido. The Philippines is also a great destination for people who enjoy the beach.
January is the peak tourist season for the country. This time of year allows you to experience the country's most popular tourist destinations and still get to experience the more remote islands. The Philippines has many islands you can visit during this time, and you'll be able to move from one island to another with the help of ferry service or flight options.
January is also the time for some of the country's biggest festivals. In Cebu, for example, the Sinulog Festival is held on the third Sunday of January. In Aklan province, the Ati-Atihan Festival is celebrated in the second week of January. You'll also get to witness the Quiapo procession, where you can touch a life-sized statue of the Black Nazarene.
If you're looking for a low-key vacation, January is a great time to visit the Philippines. The dry season means temperatures are more moderate, making it the ideal month to go sightseeing. However, January also means that many tourist destinations are more crowded, so it's important to book ahead of time. The Philippines is a great destination for budget travelers, as high-quality accommodation is still available at affordable prices.
February
February is one of the best months to visit the Philippines, because it has cool weather and very low humidity. However, the country is still in its peak tourist season, so February may be crowded in some areas. Nevertheless, February's good weather and low humidity make it an excellent time to go on a beach vacation and experience the sights, sounds, and flavors of the Philippines.
If you're planning a beach vacation, you may want to take advantage of the many festivals that the country holds during this month. From raucous street parties to spiritual and religious parades, these celebrations will give you an insight into the Philippine way of life. Moreover, you'll be able to enjoy floats decorated with suman (sticky rice cake rolled in banana leaves).
There are two seasons in the Philippines, dry season and wet season. From November to April, the Philippines has a dry season, with temperatures between 79 and 93 degrees Fahrenheit. The rainy season lasts from May to October, and temperatures range from 77 to 91 degrees Fahrenheit. During these months, it can be a bit humid, but it's still pleasant.
May
Travel to the Philippines during the month of May and you will experience a shoulder season with nice weather and fewer tourists. This month is also a good time to experience the country's lush tropical scenery. For example, the Banaue Rice Terraces will be the greenest during this time of year. However, you should avoid visiting the country during the month of June, as this is when the wet season begins. However, you should note that the rain in May will be short and light, usually in the late afternoon.
If you are looking for a less crowded time, you can also visit the Philippines during December. The temperatures are lower in December, and the rainy season has passed. This means that you can enjoy the islands, hike, and visit historic sites without the heat or humidity. And you can get some great photos.
Travelers should avoid the month of August, as the Philippines is heavily affected by typhoons during this season. However, there are still several great travel options during this time of year. As the Philippines is emerging from a rainy low season, you can get good hotel deals at this time.
June
June is one of the best times to visit the Philippines. The country enjoys a tropical climate, and temperatures remain comfortably above thirty degrees year-round. The country's coastlines also provide a cool respite from the sweltering heat. Although temperatures are high during this month, the country's humidity is generally moderate, and a few tropical storms are rare.
Travelers can expect to find fewer crowds and lower accommodation costs. However, be aware that June is peak typhoon season, which can result in major damage to properties. In June, the Baragatan Festival draws throngs to Puerto Princesa. The Pintados-Kasadyaan festival, meanwhile, celebrates pre-Spanish tattooing practices using water-based paints.
The Philippines is also a hotspot for foreign tourists, and June is one of the busiest months. Kite-surfers will have a field day, while surfers will be able to test their skills at the infamous butanding sharks. In addition, Chinese lunar new year is celebrated with a vengeance in Manila, and the Panagbenga Flower Festival is a tranquil event in Baguio.
The Philippines' dry season lasts from November to May. December through February are the coolest months, and May through June is the hottest. Tourists from the northern hemisphere will flock to the Philippines during this time to escape the cold weather. This period also coincides with the fiesta season in some destinations.
August
Traveling to the Philippines in August is a good option for tourists who want to enjoy the country's beaches and cool breeze. Despite the rainy season, the temperature remains cool, with temperatures ranging from 25degC to 28degC. However, August is also when typhoons are most likely to occur, so you should choose your destination carefully. In the southern islands, where typhoons are less frequent, you can still enjoy the beach, despite the rain.
The Philippines' climate is characterized by varying temperatures in different parts of the country, making it important to plan your trip accordingly. However, it is worth noting that lower prices do not necessarily translate to better weather, which is why it is better to plan your trip according to your priorities. The Philippines has a wide range of climates, so you should always check with the local weather forecast to get a better idea of what to expect.
During the typhoon season, the Philippines experience high levels of UV radiation, and it is essential to wear plenty of sunscreen and rain gear while traveling. Visiting the Philippines during typhoon season is best avoided if you want to avoid the Philippines' Visayas islands.
September
September is considered the shoulder season in the Philippines, so the Philippines is still relatively inexpensive despite the rainy season. However, be warned that the country's weather is unpredictable and typhoons can hit the country anytime of the year. The months of July, August, and September are the most likely to be hit by typhoons. To avoid the worst of the weather, you should plan your trip in advance and factor in buffer days.
The Philippines has a moderately warm climate during September. It is not very hot, but it is still pleasant enough for most travelers. Temperatures range between 25degC and 30degC in various regions of the country. This means that you can wear light clothes during this time.
The Philippines isn't as crowded during November, so you'll find fewer tourists, which means a cheaper trip! The Philippines will also be relatively dry from November to April. This time of year also marks the start of the holiday season, when tourism starts to pick up again after the typhoon season. Moreover, the Philippines' water temperature will warm up, making it an ideal time for diving and water sports.
Best Islands to Visit in the Philippines
If you want to experience a unique holiday, a Philippine vacation might be the perfect fit. The Philippines is a country full of diverse landscapes and experiences, and visiting the islands is a great way to discover the country's natural beauty. The main island, Luzon, is the home to Manila, the country's capital city. While Luzon is mostly agricultural, its stunning landscapes make it a popular place to travel. One of the most famous and photogenic attractions is the Batad Rice Terraces.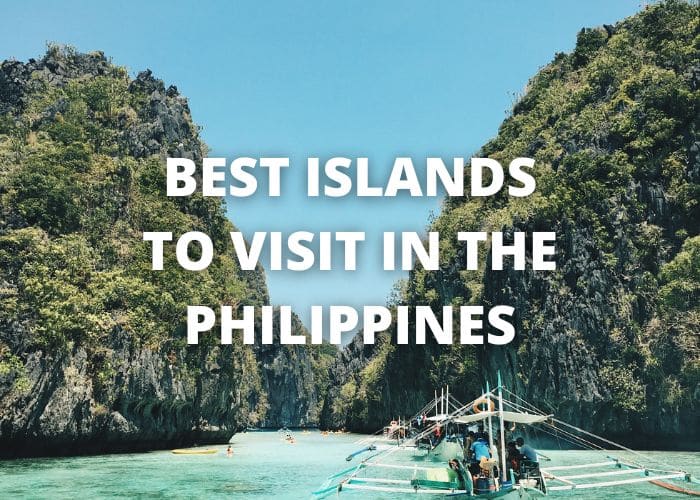 Kayangan Lake
Coron Island is home to Kayangan Lake, one of the best islands to visit in the country. This beautiful natural attraction is surrounded by limestone cliffs and a viewing deck. The lake is considered the cleanest in the country, although it is not suitable for swimming or snorkeling.
Kayangan Lake is one of the most popular tourist destinations in the Philippines. Visitors will love the clear, sparkling waters that are surrounded by limestone cliffs. The island is also known for its scuba diving sites. It is highly recommended that visitors make time to explore these dive sites during their visit to Coron Island.
Kayangan Lake is accessible by boat from Coron town. Coron Island is the largest of the Calamian islands and is home to many virgin lakes, including Kayangan Lake. It is best to check out the best tour packages online to visit Kayangan Lake and nearby islets. When planning a trip, it is important to bring enough cash to cover the expenses. There are ATMs, but they usually charge more per transaction.
If you're a lover of clear water, Kayangan Lake is definitely a must-see. It is the cleanest lake in the Philippines, with breathtaking caves and underwater rock formations. It is a popular destination for photographers. Even if you're not a swimmer, you can still enjoy a kayak ride and a panoramic view of the nearby limestone mountains.
Twin Lagoons
When you are on a vacation to the Philippines, you should not miss visiting the Twin Lagoons. The two lagoons are connected by an underwater arch. These lagoons contain fresh underground water that mixes with the warm seawater. This makes for an excellent swimming destination.
The islands are best visited during the dry season, which is from December to May. The rest of the year brings rain and ferocious typhoons that can cause havoc on these islands. Small boats that cross between islands can also be damaged by typhoons. Also, the islands are the most popular during this time, making them very crowded. However, you can still find some solitude if you visit in the early morning.
The islands are a perfect setting for scuba diving and snorkeling. They have a well-developed tourism infrastructure with several excellent resorts and hotels located in a tourist hub. The islands are also surrounded by a lush jungle that is the perfect backdrop for a relaxing vacation.
Another reason to visit the islands is that they are affordable and easily accessible. The Philippines is one of the most affordable countries to visit. If you love the ocean, this country is a must-visit destination. However, be prepared for heavy monsoons during the rainy season, which can make the islands difficult to reach.
Coron
Coron is an island in the western Philippines. The main city of Coron is Coron Town. This island is known for its shipwreck diving. Its waters contain the ruins of at least ten sunken Japanese and merchant ships. It is accessible from the province of Cebu by flight or by boat.
There are numerous cheap accommodations and restaurants in Coron town. However, dining out can be costly. Also, WiFi in Coron is spotty. If you must use the internet, you can find a WiFi service in the Summer Cafe & Bar. However, the main danger in Coron is the narrow roads filled with tricycles and mopeds.
The Coron archipelago is home to several islands that are worth visiting. Coron is one of the best islands to visit if you enjoy marine life. The waters here are rich in color and are perfect for snorkeling. It also boasts shipwrecks and secluded beaches.
The accommodations in Coron are mostly affordable, but there are also higher-end hotels in the area. The Two Seasons Coron Island Resort and Spa offers a stunning location on Malaroyroy island. A bungalow here starts at PHP 27,000 (USD 530). Another option is the Coron Villa, which offers an in-house restaurant and affordable double rooms. There are also several apartments available on the island.
The Tagbanua people of Coron have their own unique way of life. The island is managed by the indigenous Tagbanua tribe, which protects the island's marine and land ecosystems while promoting sustainable tourism. Moreover, you can visit the ancient Tagbanua tribe, which lives on the island.
Sagada
Sagada is an area in the Philippines that is mountainous and a perfect destination for backpackers. Its cool climate, mystic caves and local burial customs make it the perfect getaway spot. One of the most popular tourist destinations in Sagada is the Echo Valley. This beautiful place is a 20-minute walk from the town center, and it is also a popular destination for rock climbers.
Sagada has two seasons, a rainy season (May-Oct) and a dry season (Nov-Apr). The islands are cooler and wetter all year round, but you should avoid the dry season, which can be very hot. The best months to visit Sagada are November-February, when temperatures are cool but not humid. Avoid the peak season of December, though – it can be too hot and humid.
The town is also home to the famous Bomod-ok Waterfalls, also known locally as the "Big Falls." The waterfalls are located in Barangay Banga-an and can be accessed on foot. You can also hire a van to get to the falls, which costs PHP 500 round trip. However, you should still check the local laws and avoid hiring an unregistered guide, since he or she may not be able to follow proper safety regulations.
There are two major bus companies that go to Sagada. The one operating direct from Manila is Coda Lines. Tickets for these buses can be booked online at Bookaway, a popular transportation website in Southeast Asia. The other way to get to Sagada is to take an overnight bus from Banaue. The trip takes around 11 to 13 hours, depending on the route. You may also want to hire a jeep if you're traveling with a large group.
Bohol
Bohol is one of the Philippines' most diverse islands, and offers a wide range of activities and attractions for travelers. The island has beautiful beaches, a lush mangrove ecosystem, and the famous Chocolate Hills. Visitors can easily reach Bohol by plane or tricycle from Tagbilaran airport.
The island's pristine white-sand beaches and gentle coves are a popular place for snorkeling and diving. While the island isn't as famous internationally as Boracay, it is still known as one of the Philippines' best islands for this activity. Other popular attractions include Chocolate Hills, tarsiers, and old stone churches.
In addition to its beautiful beaches, Bohol is also an ideal location for waterfall-chasing. You can do this on your own or join a tour. It has a number of beautiful, pristine islands and islets that are ideal for relaxing in the sun. Diving is also a popular activity, and Bohol is known for its excellent snorkeling and scuba diving.
Bohol has a panglao international airport, which makes it easy to get cheap flights. Airlines like Philippine Airlines, Air Asia, and Cebu Pacific operate flights to the island on a daily basis. The flight from Manila to Bohol takes about 1.5 hours. Tickets are usually 2,500 PHP or less. Another option is to take a ferry from Cebu to Bohol. This method is much cheaper than flying from Manila.
Corregidor
There are many things to see and do in the islands, but some of the best places to start are the historical sites. For instance, you should see Fort Santiago, which is located just 40 km away from Manila. It is a treasure trove of history. You can reach it by ferry within one hour. You can also visit the Pacific War Memorial Dome, which houses twelve marble panels encrypting the history of the Pacific War.
If you want to experience a more secluded setting, you can book a stay in a hotel on Corregidor Island. There are 31 rooms in the Corregidor Island Hotel, and each has a beautiful view. The hotel is also clean and offers a good deal of comfort for travelers. In addition, the hotel can accommodate large groups and has a photography tour.
If you'd like to visit a historical island, Corregidor Island is a must-see. The island, which is 48 kilometers from Manila, was home to the WWII allied troops. A visit to the historic island offers an opportunity to learn more about Filipino history and explore the island's pristine natural beauty.
Corregidor is also home to a Japanese Cemetery, which was built between 1922 and 1932. This structure features shrines, photographs, and memorabilia. It is a peaceful place for visitors to honor the fallen soldiers of the war. A museum is also housed within the complex.
The Best Beaches to Visit in the Philippines
If you're planning a vacation to the Philippines, you should start by visiting one of the country's best beaches. These include Boracay, Pagudpud, Zamboanga, and El Nido. These beaches are not only known for their beautiful white sand, but also for their incredible nature. They are also home to the world's largest concentration of coral reefs.
Boracay
If you are looking for a place to enjoy a tropical vacation, consider going to Boracay. Located in the central province of Panay, the island offers a variety of activities for visitors. The island is famous for its diving and water sports, and it is an ideal place for people who want to do some extreme activities. It is also known for its nightlife, with many bars and clubs.
The powdery white sand of Boracay is a unique feature of this island. It is unlike any other beach sand in the world, and some people find it magical. The sand is a product of different ecosystem components that make up the island.
Boracay has a four-square-mile area that has many activities. The island is a perfect destination for people of all ages, from young to old. The water is clear, and it shows beautiful blue hues. Visitors can also enjoy a variety of water sports, from snorkeling to cliff-diving.
The island has more than 70 resorts and hotels, so there is something to suit every budget. One of the most popular options for accommodations is the Pearl Farm Beach Resort, which features a large resort area, private beach, and modern accommodations. Another popular spot for travelers is Anguib Beach, which is surrounded by mangrove trees.
Boracay is one of the best islands to visit if you want to relax and enjoy the sun. While you are here, you may even want to do some snorkeling or enjoy the nightlife. You can find several species of fish and other marine life. Helmet diving, for example, is another popular activity. Divers wear a helmet with glass plates that allow them to see under water as if they were on land.
El Nido
El Nido is a municipality in the Philippine island of Palawan. It is famous for its pristine white sand beaches. It is also the gateway to the Bacuit archipelago, a group of karst islands. In this region, you can swim and dive at some of the islands, such as Shimizu Island and Miniloc Island. Diving sites are also plentiful in El Nido. You can dive at Dilumacad Island, which has a long tunnel leading into an underwater cavern.
The town of El Nido has numerous bars, restaurants, and small shops. You can also rent kayaks. If you plan to kayak, remember to bring a hat, sunscreen, and water. It is very hot here, so make sure to protect your skin from the rays. Alternatively, you can take a motorbike to the beaches in El Nido.
One of the most popular beaches in El Nido is Nacpan. The road to Nacpan Beach is about 20 km north of the town. It is possible to reach this beach by tricycle, but it is less convenient. You can also hire a scooter, which is much faster and allows you to enjoy the landscape while riding. At one point, the road to Nacpan Beach turns into a track. Once there, it is necessary to write down your name in a register. There is also a $1 entrance fee.
If you don't want to swim, try snorkeling. There are many corals and other marine life to be found on this island.
Pagudpud
If you are looking for a getaway in the Philippines, Pagudpud is an excellent choice. This laidback resort town is located in Ilocos Norte and can be accessed by car. There are several tour packages that include this town.
Located on the northwest coast of Ilocos Norte, the city is home to a windmill base called the Bangui windmills. The windmills are used for alternative energy and are visible from the beach. The best time to see these windmills is during sunset.
The town has a long stretch of white sand and crystal clear water that's perfect for swimming and snorkeling. It's also home to a blue lagoon, perfect for those seeking a tranquil getaway without the crowds. The town has a few beach resorts and is best booked in the summer season.
The town center is a convenient starting point for day trips. From here, you can take a tricycle to Bantay Abot. From there, you can also take a trip to the Blue Lagoon, a beach located in Maira-Ira Cove. The northeast monsoon season lasts from November to June, and winds from the north bring big waves to the island. Compared to Boracay, Pagudpud is a more relaxed beach town.
Besides water sports, Pagudpud is also known for its nightlife. Aside from snorkeling and diving, Pagudpud is also home to some world class resorts. Its tropical climate makes it an ideal place to unwind and enjoy a holiday.
Zamboanga
If you are a beach lover, Zamboanga is the place for you. This province is filled with beautiful and breathtaking beaches. Zamboanga is also a foodie's dream. There is a wide range of food available here, from international and local cuisine. The city is also home to a number of enchanting islands.
Zamboanga City is home to 11 islands that make for a perfect day trip. You can visit Buluan Island and Sibugay Sinking Island. While on these islands, you can enjoy water sports like snorkeling, kayaking, and swimming. Just make sure to wear a life jacket! Another beach that you can visit in Zamboanga is Caragasan Beach. This is a local favorite.
If you are traveling by plane, the best time to visit Zamboanga is during the summer months from March to May. The city also hosts the Regatta Festival in October. If you are looking for a place to stay, there are plenty of hotels located near the airport.
Bitaog Beach is another great option for those who want to get away from the city and enjoy a relaxing day at the seaside. With white sand and clear aquamarine waters, this beach is an ideal escape from the bustling city. The beach is accessible 24 hours a day, and there are public dressing rooms.
If you want to go for a scenic hike, you can also head to Merloquet Falls. This natural beauty is about two hours away from Zamboanga Town. The waterfall is a breathtaking sight, and the water is cool. There are also platforms underneath the falls where you can enjoy a waterfall massage.
Mindanao
Mindanao is a large island in the southern Philippines and also consists of several smaller islands. The largest city is Davao. This city has numerous attractions, including the Philippine Eagle Centre and the Davao Crocodile Park. It also boasts the People's Park, a cultural space with statues of local indigenous people. You may also want to hike up Mount Apo, a volcano with trails and a lake.
This island offers breathtaking scenery, tropical climate, and warm people. It is a destination for relaxation and adventure lovers alike. It is also home to stunning natural parks, rivers, and caves. You can also take part in activities such as river rafting. Siargao, for example, is best known for its surfing tower, but other attractions include caves, waterfalls, and lagoons.
Though Mindanao is not as popular as other Philippine islands, it is becoming more popular as a beach destination. The recent success of Siargao has raised awareness about Mindanao's natural beauty. Despite its less developed status, Mindanao beaches are still relatively unspoiled, making them a great place to explore.
Another beach you should not miss is Banana Beach. The pristine white sand here is perfect for swimming and snorkeling. While you're there, be sure to bring your swimsuit – a great beach for surfing is waiting for you. Aside from Banana Beach, you should also try the beautiful White Island.
If you're looking for a more secluded beach, try the beaches in Siargao. The beaches here offer the ultimate tropical experience, with cerulean water, fine white sand, and towering coconut trees. You can also try out the famous Hiang Beach in Basilan, although it may not be as popular as the others.
The Best Cities to Visit in the Philippines
If you're considering a trip to the Philippines, there are many cities to choose from. Some of the most popular cities include Manila and Cebu, Tagaytay, Bacolod, Iloilo, and Baguio City. These cities have a lot to offer visitors.
Cebu City
There are several things to do in Cebu City. There are many large markets in the city center. The Carbon Market used to be a coal market. Now, it sells vegetables, meat, pots and pans, and clothing. A visit to the SM Seaside City Cebu is an exciting way to spend your time. You can also check out the Olympic-size ice skating rink.
The Basilica del Santo Nino is the oldest Catholic place of worship in the Philippines. It dates back to the mid-1560s. Inside, you can find beautiful stained-glass windows and old artwork. There is also a museum that features interesting historic objects. You can also visit the Magellan's Cross, an impressive historical religious site.
Another great attraction in Cebu City is the Butterfly Sanctuary. This is home to a variety of tropical plants and is maintained in a near rainforest style. The place is teeming with different species of butterflies. It also houses an indoor collection of specimens that shows off the rich biodiversity of the city. It also boasts a museum and art gallery.
Another great thing to do in Cebu City is to visit the islands. The beaches are beautiful. The beaches in Moalboal are some of the best in the country, with soft white sand and clear blue waters. There are also a lot of water sports to participate in. There's also the Pescador Island, which is part of the municipality.
There are many free things to do in Cebu City. Kawasan Falls, in the south-west of the city, is another great place to visit. You can walk up the hill from Brgy Liong or Barili to Kawasan Falls, which is a three-stage cascade of turquoise-colored water. It is considered to be the pearl of the Philippines. You can even go canyoneering here.
Aside from the tourist attractions, you can also enjoy the local cuisine. The cuisine is a blend of Spanish and Filipino traditions. If you're looking for a great place to eat, check out Rico's Lechon, which is ranked as one of the top 10 places to visit in Cebu.
Tagaytay
Tagaytay is one of those places that has so much to offer tourists. It has a unique geographical feature: the Tagaytay Highlands, which is located at the city's highest point. This region is home to exclusive themed residential communities like the Highlands, the Midlands, and the Greenlands. Moreover, it has a tropical monsoon climate, which means it experiences mild temperatures and lower humidity than most other cities in Metro Manila.
The city is also rich in culture. It is the home to some of the most beautiful religious shrines in Asia. You can also go on a day trip from Manila to visit the enchanting Taal Lake. The city also boasts of an exciting casino, a sky-high fairground, and many locally famous restaurants.
For a more casual dining experience, you can go to the Mahogany Market and try Bulalo. Located along the Aguinaldo Highway, you can find several Bulalo restaurants here. The prices here are cheaper than other restaurants in the area. Its specialty dishes include kare-kare and laing, which are both a must-try.
If you have kids, Tagaytay's Sky Ranch is a great place to take them. With plenty of fun rides, you can even let them try their hand at pedal boats and paddleboats in the pool. Another fun activity is the Sky Cruiser, which takes you 63 meters above the ground. You can also ride on a 300-meter zipline.
The city is also home to the Taal Volcano, which has experienced 33 eruptions. This is the Philippines' second-most active volcano and is known for its huge cratered mouth and hilly sides. If you visit the city, you can also experience the beautiful landscape that surrounds it, including a pristine lake.
During your stay in Tagaytay, make sure to visit the Puzzle Mansion Museum. This place holds a Guinness World Record for the largest collection of jigsaw puzzles. The museum is located in Barangay Asisan, Tagaytay City, and it's open daily. Admission is just 100 pesos.
Bacolod City
Aside from its historical sites and rich culture, Bacolod is also home to delicious food and convenient transportation. It is the hometown of the Philippines' most popular chicken dish, the chicken inasal, and hosts the annual Masskara Festival, which happens on the fourth Sunday of October. The city also has some pristine beaches, a mountain range, and several top-notch restaurants.
For foodies, Bacolod City offers a wide selection of restaurants and cafes that offer a variety of local and international cuisines. The city has a warm and friendly culture that will make visitors feel at home. Visitors will be charmed by the welcoming smiles of its people and charmed by the distinctive accent and lively cuisine of the Bacolenos.
Known as the "City of Smiles," Bacolod City offers a variety of activities for families and children. The city is a busy place, with people working for several hours each day, yet it still offers enough free time for a relaxing holiday. Kids can enjoy the many activities available for them in the city, such as playing sports.
Bacolod City is one of the most popular cities to visit in the Philippines. It is the capital city of the Negros Occidental province and the most populous mid-sized city in the country. It is also a gateway to the world-famous sugar-growing cities.
The city has several beaches and islets that are rich in life. A marine reserve is located nearby, including the Maca Reef, Carbin Reef, Panal Reef, and the Sagay Shoal. Its 500-hectare marine reserve also features a thriving mangrove forest. Divers love the seascape here, as it has vibrant coral reefs and many species of marine animals.
Iloilo
There are a number of reasons to visit Iloilo City. Travelers can enjoy pleasant weather and cheap rates during the spring and fall seasons, as well as during the rainy season, from November through May. The city is accessible via air, land, and sea, so travelers can arrive by plane or boat from various airports in the country. It is recommended to book flights and hotels in advance to avoid disappointment.
Iloilo is home to several interesting historical sites. Visitors can view beautiful churches and heritage houses, such as the Jaro Cathedral, which is a Romanesque structure. Another popular tourist spot is the Belfry of the Baroque Miag-go church, which is considered a National Historic Monument and dates back to the 1700s. Tourists can experience the beauty of the sunset at this church, and it is also located near various restaurants and shopping areas.
For travelers who want a relaxing stay, Iloilo offers several affordable options, including hostels and hotels. It is a city with an impressive history as a major trading route and a thriving economy. Tourists can enjoy its cultural diversity and natural beauty without breaking the bank. This city is also a great destination for outdoor activities. Its many attractions and rich history make it one of the best cities to visit in the Philippines.
The Iloilo International Airport is located 40 kilometers from the city. There are many flights to and from Iloilo City. The major airline companies flying to Iloilo include Philippine Airlines and Cebu Pacific. The flight from Manila to Iloilo City takes about an hour and a half. There are also international flights from Singapore and Hong Kong.
The city boasts countless white-sand beaches that are commercial yet unspoiled. Its history is a reflection of a cosmopolitan past, from early commercial trade with Mexico and China to vestiges of the American colonization. It is also home to renowned performers, film makers, and actors.
Iloilo is an ideal gateway to the Western Visayas region. From here, it is possible to access the provinces of Guimaras, Antique, and Roxas. For art lovers, the city is home to the Museo Ilo, and the Museo Ilo Museum of Contemporary Art.