Best Volunteer Programs in Cape Verde
Abroad Escape PHCV Go Volunteer Africa Atoll
You can choose from a variety of volunteer programs in Cape Verde. Most resorts and hotels prefer to choose their volunteers before the tourist season starts, but there are some programs that are available all year round. A Cape Verde vacation is a fantastic way to give back and make lasting memories. The country is often referred to as a paradise on Earth, and there are numerous opportunities to make a difference.
Abroad Escape
Join Abroad Escape and embark on an extraordinary journey in Cape Verde! Discover the thrill of making a difference by immersing yourself in the captivating beauty of this destination as a valued volunteer. In Cape Verde, we present you with a chance to design a personalized itinerary within our exceptional and meaningful volunteer programs.
PHCV
PHCV is an organization that provides healthcare to the people of Cape Verde. It was founded by members of the Beth Israel Deaconess Medical Center and has partnered with local authorities and healthcare professionals to provide health care to the locals. The organization is able to accomplish its mission through the help of volunteers.
Volunteers can work with local communities in Cape Verde in a variety of ways. Some of these projects involve teaching English or French to children, or helping out with community work. Other projects involve health talks and health education for children. Some of these projects are long-term while others are short-term. In addition to providing healthcare to the people, volunteers can also help out in schools and support programs to help the animals and the environment.
A key factor that hinders malaria programme progress in Cape Verde is decentralization. The local health authorities are not equipped to supervise programme activities in the peripheral areas. This means that accountability for programme quality is unclear. Furthermore, the programme has not been consistent in its implementation.
Go Volunteer Africa
Volunteers can work in a variety of fields, including education, conservation, and health. Some programs will even include teaching English and French to local children. Others will provide hands-on assistance in the development of a school or community project. Schools are an important resource for local communities, as they offer much-needed education. Many schools also have health talks and sports activities for children. In addition, schools are important community centers, where volunteers can network and share their skills with others.
Volunteers can get involved in environmental projects, such as planting trees. Some programs will also help develop the economy. There are several projects in Cape Verde with GoEco. Volunteers will teach English to local children, contribute to community development efforts, and learn about the culture and history of the island.
Volunteers can also participate in marine conservation and education initiatives. For example, volunteers will work with marine biologists to track the behavior of sharks and go on "chum trips" to attract them close to a research boat. Other volunteer opportunities may include observing whales, dolphins, and penguins.
Volunteers can also become coaches at local schools. In Cape Town, the local school system has only recently added physical education to the curriculum, and schools are still building up their resources. As a result, volunteers will serve as mentors and help with lessons. The volunteers will help young people develop healthy habits and become more physically fit.
Volunteers can make a real difference in a country by helping with education. A lack of education is one of the biggest problems facing many countries in Africa. Volunteers can assist children in Zambia or help women groups and adults get a better education.
Atoll
Volunteer programs in the Atolls of Cape Verde are an excellent way to explore the country's natural beauty. Whether you're passionate about wildlife conservation or wish to learn more about the local culture, there's a program for you. This beautiful island nation is home to the endangered Loggerhead sea turtle, which nests on its beaches. Volunteers can participate in a variety of conservation activities and get hands-on experience, while working in a friendly environment.
Volunteers can help educate children in Cape Verde by teaching them English, French, or health lessons. These programs benefit both local children and volunteers, and provide much-needed education. These programs also help develop arts and sports activities and provide community gathering places. Volunteer opportunities in Cape Verde are available for short-term projects, as well.
RAD-AID has expanded its program to Sao Filipe Regional Hospital, where it can now perform ultrasounds and radiography. This project has also helped install a small-scale picture archiving and communication system (PACS), so patients can bring home their images without the need for interpreters. The team also hopes to expand its partnership to other Cape Verdean islands.
Volunteer programs in the Atoll are a great way to experience a new culture. Volunteers can learn the language and the local culture while engaging in exciting adventures. A week-long cultural immersion can also prove to be a very rewarding experience. Volunteers can also opt for an English-teaching project or even a childcare project. The latter is especially rewarding, as they get to help build a better future for the local children.
Cape Verde has a large diaspora, with a large population in the United States and Portugal. It is a member of the African Union. Since the early 1990s, the country has been governed by a stable representative democracy. Its economy is service-oriented, with an increasing focus on tourism.
Top 10 Things to Do in Cape Verde
Cape Verde is an island nation in the central Atlantic Ocean. It consists of ten volcanic islands. The total land area is 4,033 square kilometers. The country is known for its stunning scenery and friendly people. There are several things to do in Cape Verde, including horse riding tours and fishing excursions.
Cidade Velha
Cidade Velha is a small but beautiful city on the island of Cape Verde. With its history dating back to 1462, it is one of the oldest European settlements in the tropics. In the past, it was a major port and center for trade. Today, the city is home to several attractions and is a great place to explore.
The port of Cidade Velha was used by Vasco da Gama in 1497, Christopher Columbus in 1498, and Ferdinand Magellan in 1522. These men used the port on their way around the world. The town also has one of the world's oldest colonial churches, Nossa Senhora does Rosario, built in 1495. In 1533, the city became the seat of Santiago de Cabo Verde.
The town is home to the first European settlement in the tropics. In the 16th century, Cidade Velha became a major slave trading port. The slave trade made it the second richest city in the Portuguese realm. The town still has its original streets and many interesting buildings. There are also two churches and the royal fortress.
Cidade Velha is an ideal destination for people who love history, culture, and art. There are many historical sites and museums to explore, as well as several hotels with serviced accommodations.
Horseriding tours
If you are looking for an adrenaline-fueled adventure, Cape Verde has plenty of horseriding tours to choose from. Tours are available from most of the islands in the region. The best time to take one is at sunset. The tour starts in Santa Maria, a gorgeous beach area with expansive salt flats. This tour lasts about six hours and includes a pick-up from your hotel.
While touring the island's natural beauty, you can also take in the live music at the local entertainment centers. Live music is a fun way to mingle with locals. This is a thrill-filled activity that you won't soon forget.
If you like to explore the island's natural landscapes by horseback, Cape Verde offers horseback city tours on its island of Boa Vista and Sal. These tours can be booked online or through a local travel agent. Prices are considerably lower if you book a tour without a guide.
A visit to Cape Verde during spring is a special opportunity to witness the turtle migration. This beautiful species makes its way to the island to lay its eggs in the sand. During this time, you can join a tour that includes a short briefing and half-hour navigation. The tour also includes a marine biologist to answer your questions about the local wildlife.
Another activity that is unique to the island is a zip-line tour of the island. This exciting adventure offers adrenaline rushes and beautiful landscapes. With a guide on hand, you can see the island from a bird's eye perspective.
Fishing tours
When visiting Cape Verde, one of the best activities is fishing. During the day, you can take a fishing tour with a licensed guide and spend time in the water. The fishing trips take place in a variety of locations. From the seashore to the rocky hills, you can enjoy the scenery while you're on a fishing trip.
Before embarking on your fishing tour, you'll need to have your license and tackle. Most fishing charters in Cape Verde provide licenses and tackle for their customers. Some of them also host live music performances in the local entertainment centers. The whole experience is exciting and relaxing.
The fishing tours in Cape Verde are very popular. You can join guided fishing trips on most of the islands. Some of the best destinations are Boa Vista and Sal. These islands are known for their crystal-clear waters and a wide variety of fish species.
Apart from fishing, the island also has a variety of excursions available. Some of these include visits to other islands, a traditional Cape Verdean evening, big game fishing, and whale watching. The area is also a haven for kite and windsurfing enthusiasts.
The weather in Cape Verde is tropical with temperatures of 20 to 28 degrees Celsius, or 70 to 85 degrees Fahrenheit. The weather is warm enough to enjoy hiking and swimming during the day, but nights can be a little cool. In August and September, the rainy season is likely to increase, but the volume is still minimal when compared to other tropical climates.
Turtle hatchery
If you love turtles, you may be interested in visiting a turtle hatchery in Cape Verde. This is a fantastic way to support conservation efforts. The hatchery is a great place to see baby turtles being born, and you may even catch a glimpse of them as they head to sea. You can also enjoy a tour of the hatchery's grounds, where you can watch the turtles lay eggs.
Turtle conservation is an important issue to the local population, and the government of Cape Verde is working to protect them. In 2017, the government made turtle killing illegal on the island. In 2007, two people on the island of Sal became concerned with the welfare of the turtles and started a turtle hatchery project. The organizations SOS Tartarugas and Projeto Biodiversidade were established by these conservationists, as was the hatchery.
Turtles are also threatened by global warming. This is due to a number of factors. Rising temperatures can skew the gender ratio of turtles since the temperature of the sand egg determines the sex of the hatchling. On the island of Maio, for instance, nearly 100 percent of hatchlings were female. This reduced male population has detrimental effects on reproduction and decreases genetic diversity, which hinders the turtle's ability to adapt to changes in the environment. As a result, turtle conservation efforts are focusing on preserving nesting females.
Watching turtles is a unique experience in Cape Verde. You can join one of the guided tours, and the guides and volunteers are experts in turtle protection. There are several places to see nesting turtles in Cape Verde, and they are accessible only at certain times of the year.
Volunteer Cape Verde
Join Abroad Escape and embark on an extraordinary journey in Cape Verde! Discover the thrill of making a difference by immersing yourself in the captivating beauty of this destination as a valued In Cape Verde, we present you with…
Volunteering in Cape Verde is a great way to learn about local culture and help with local projects. During your week in Cape Verde, you will spend time getting to know locals and experiencing the culture firsthand. You'll also have a chance to participate in a cultural experience in an environment that's untouched by mass tourism.
Join Abroad Escape and embark on an extraordinary journey in Cape Verde! Discover the thrill of making a difference by immersing yourself in the captivating beauty of this destination as a valued volunteer. In Cape Verde, we present you with a chance to design a personalized itinerary within our exceptional and meaningful volunteer programs.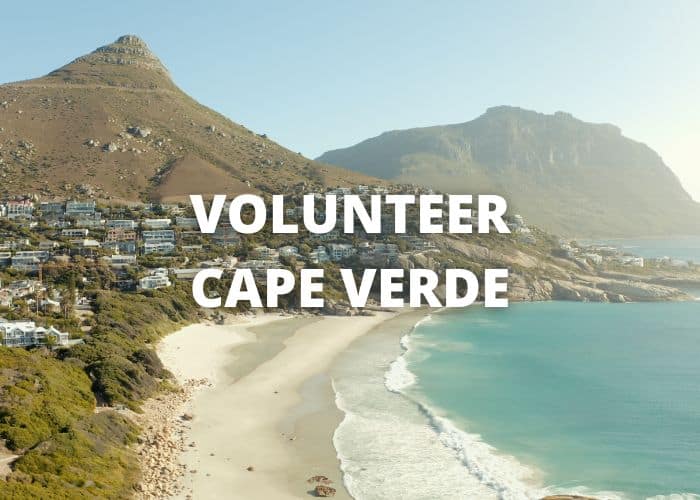 Why volunteer in Cape Verde?
Volunteering in Cape Verde is a wonderful opportunity to experience life in an island nation that is unique in many ways. This small nation is home to ten volcanic islands and is renowned for its stunning landscapes. Its population is relatively low (7%) and its schools are free and open to all. Volunteers may choose to help with community work or teach English in the local area. Other opportunities include protecting the island's biodiversity. Volunteers who wish to work with sea turtles may choose to help research the endangered species of these creatures.
Volunteers should be aware of the country's health and safety laws. They should have the appropriate vaccinations for the region they are volunteering in, including rabies and yellow fever. They should also wear protective clothing, including a mosquito net. While vaccines can protect against many of the common diseases, there are some risks that are not preventable. You should also take precautions when preparing your trip.
One of the reasons volunteers should consider Cape Verde is to help conserve turtles. Many loggerhead turtles nest on the beaches of the island, and volunteers can assist with conservation programs that protect these amazing animals. Volunteering in Cape Verde also allows you to experience the country's nature and culture in a way that many tourists don't. While you're in the country, you can explore hiking trails and enjoy the local culture off the beaten path.
Why Travel to Cape Verde?
If you are looking for an adventure that will leave a lasting impression, volunteer in Cape Verde. It is a multicultural nation and a popular destination for tourists. Whether you want to help the locals in their daily life, or you want to help protect a native species, you can do so through a conservation program. This is an ideal destination for those who appreciate nature and would like to make a difference in the community.
The Republic of Cape Verde is made up of 10 volcanic islands off the west coast of Africa. These islands are part of an ecoregion of their own, and contain a diverse range of plants, animals, and reptiles. The islands are 450 kilometers off the west coast of Africa and have a dry, arid climate.
If you're a passionate nature lover, you can also help protect endangered sea turtles and humpback whales. There are also a number of foundations and volunteer opportunities that combine eco-tourism with community service. For example, you can teach English, do community work, or protect the natural and cultural heritage of Cape Verde by volunteering to help with the conservation of sea turtles.
Volunteering in Cape Verde is the perfect way to make a lasting impact. The islands are home to a diverse ecosystem with rich marine and terrestrial species. The third largest nesting site for Loggerhead sea turtles in the world is in Cape Verde.
Volunteer Opportunities in Cape Verde
Volunteer opportunities in Cape Verde are a wonderful way to experience this beautiful island country. Volunteers will have the opportunity to assist with conservation efforts on one of the world's most beautiful beaches, and many programs focus on local communities. Volunteers can choose to work on a variety of projects, from building infrastructure to helping protect endangered species. While most volunteer projects are based in the capital of Praia, many also operate in rural areas where the economy has suffered.
Volunteers will gain valuable experience in local communities, and many programs offer a cultural immersion experience. Volunteers will spend time exploring the local culture and helping to improve the lives of local residents. A weeklong project can offer a great introduction to local culture. While volunteers are working, they may also enjoy exploring the island during the weekend.
Cape Verde is a beautiful destination that is easy to reach and offers many volunteer opportunities. Whether you're interested in helping children, animals, or a project for the environment, you're sure to find something meaningful and rewarding in this unique country. Whether you're looking for a long-term project or just a few months of volunteer work, Cape Verde is sure to please.
Why join Volunteer Programs in Cape Verde?
Volunteer programs in Cape Verde are a great way to experience the culture, nature, and wildlife of the country. While in the country, volunteers spend the nights on beautiful beaches and learn about the local wildlife.
Volunteers can participate in a sea turtle conservation program in Cape Verde, which supports local schools and helps protect sea turtles from extinction. While working on a volunteer project in Cape Verde, you'll also have the opportunity to explore the area off the beaten path and explore hiking trails.
Volunteers can also work in schools to support community development initiatives in Cape Verde. They can teach English, French, or even health lessons to the children. Schools in the region are critical for the education of local children. Besides providing education, schools also provide opportunities for sports activities, health talks, and community gatherings.
Volunteers who choose to live in Cape Verde should be aware of the risks of contracting various diseases. Vaccinations are recommended. Volunteers are advised to undergo typhoid, yellow fever, and rabies shots. Volunteers should also wear mosquito repellent. These vaccines can only prevent certain diseases. Other precautions must be taken to protect volunteers and their host communities.
Best Places to Visit in Cape Verde
There are many places to visit in Cape Verde. Listed below are some of the most popular. Porto Novo, Santa Maria, Fogo, and Santiago are just a few. You may also want to check out the beautiful island of Sal. These destinations have a variety of activities for travelers.
Porto Novo
The weather in Porto Novo is mild, with hot summers and mild winters. The average high temperature is above 85degF during the hot season, and the coldest month is February. Daily temperatures are usually between 68 and 79degF, with only a few days below 65degF. The best time to visit is from early May to early August.
Getting around the island is fairly easy. From the capital of Ribeira Grande, it is just a 36km car ride to Porto Novo. You can rent an aluguer, which is a traditional open minibus, for about CVE7000 for the day. For more transportation convenience, you can rent a car at Porto Novo.
Sal island, which is home to the country's international airport, is another great place to visit. Sal is a sunny, unspoiled island with a warm climate and miles of pristine sandy beaches. It is known for its leaning church and is also a popular surfing destination in the winter.
Santiago Island is the largest and most populated island in Cape Verde, and is where half the population lives. It is also home to some rare and endangered species, as well as a diverse landscape. The 500-year-old kapok tree is one of the island's main attractions, and the Mercado de Sucupira is a good place to try traditional food and handicrafts.
Santa Maria
If you are looking for an authentic island vacation, Santa Maria is a great choice. This coastal town is the largest tourist destination on Sal Island. It is known for its waves and beautiful beaches. It is also home to the annual Kite Surfing World Championship. The city has a pleasant climate throughout the year and average temperatures of around 28degC.
The local cuisine is excellent. Although there is no dominant nationality, the island has a well-established Italian contingent. As a result, Italian cuisine is widely available, and the prices are affordable. There are plenty of restaurants and beach bars on the island. If you're planning on going for breakfast in the morning, you'll find many options along the main street. One of the best places to eat in Santa Maria is Josh Angulo's Surf Shack, which has a nice terrace and a late-night happy hour.
Santa Maria is also home to many bars, both sophisticated and basic. Most bars have happy hours and offer drinks and food at discounted prices. Even the smallest restaurants serve good food, and you can order take-out if you don't feel like cooking. However, if you want a more informal meal, you can always go for toasties.
Fogo
Fogo is a volcanic island located in the Sotavento group in Cape Verde. It is home to 35,837 people and is 476 km2 in area. It is home to an active volcano, Pico do Fogo. Fogo is a must-see destination for anyone visiting the country.
Fogo is one of the most beautiful places in Cape Verde. The capital, Sao Filipe, is a World Heritage candidate, with narrow paved streets, gardens, and colonial architecture. Sao Filipe is also home to a number of Sobrados, which are colonial-style manor houses. Many of these have been converted into charming hotels. Fogo is also known for its coffee production.
Fogo Island is a volcanic island that has been inhabited for over 10,000 years. The island has a small population and is popular with hikers and mountain bikers. Its pristine beaches are beautiful. The town also boasts a beautiful two-towered blue church.
The people of Fogo are very welcoming and friendly. Although tourism has only recently made its way to the island, the locals are eager to welcome visitors. The volcanoes on the island are a huge part of the landscape and define the region. The Pico do Fogo is the largest, 9,000-foot volcano in Cape Verde.
Santiago
The capital of Cape Verde, Santiago, is one of the best places to visit. Located on the island of Sal, this bustling harbour town is home to many tourists, and is also the main export and import point for the country. The town is full of lively bars, great restaurants, and beautiful architecture. The town is also a haven for divers, and is known for its underwater caves and reefs. You can also enjoy a relaxing salt bath in the town.
Santiago is also a great place to taste the local cuisine. Its cuisine is typical of West Africa, and its national dish, cachupa, is very similar to the Portuguese feijoada. Other dishes that are widely available on Santiago include canjo, a chicken and rice stew, and papaya.
After you've enjoyed the food, you can visit a local restaurant to enjoy traditional Cape Verde fare. The restaurant, Quintal da Musica, serves traditional Katxupa and serves dinner while a local band plays. This Cape Verde tour ends with a drop-off at the Nelsom Mandela International Airport.
Santo Antao
Santo Antao is located on the westernmost Cape Verde island. It is the second largest island in the country and covers 785 square kilometers. It is separated from its neighbor, So Vicente, by a sea channel. With an abundance of natural beauty and a rich history, this island is well worth a visit.
If you want to experience the true beauty of Cape Verde, Santo Antao is the place for you. The village has the most charming atmosphere, with its colorful housefronts and the distant sound of waves. It is a perfect place to soak up the island's culture.
Santo Antao is not easily accessible by plane, but you can take a ferry from Mindelo. The ride takes about an hour and costs just 800 escudos. The island is not very well known to English-speaking visitors, so you will need to do some research beforehand.
Santo Antao is an island that is full of hiking trails. The pristine landscape of this island is a walker's paradise, and the trails are well maintained. The trails connect several villages and are often used by locals. You can ask a local to point you in the right direction if you are unsure where to go.
Sao Vicente
If you're looking for a relaxing and fun holiday, Sao Vicente should be your destination. This island is home to a variety of activities, including beaches, surfing, and cultural events. The weather is subtropical and dry, with temperatures between 24 and 30 degrees Celsius. The strongest winds occur during winter.
The island of Sao Vicente is home to some of Cape Verde's greatest writers, thinkers, and musicians. It's the cultural hub of the country, and its capital, Mindelo, has a quaint, colonial vibe. The beaches here are also unspoilt and perfect for water sports.
For those looking for a beach and some fun, Sao Vicente is one of the best destinations in Cape Verde. The town is also home to the largest carnival in the country, which is similar to Rio de Janeiro's carnival. It is said to be one of the best carnivals in the world.
Sal
If you're looking for a unique experience, Cape Verde is the place for you. Whether you want to experience the culture, beaches, and water sports, there are plenty of places to explore. Whether you're an experienced diver or a beginner, Cape Verde offers something for everyone.
The beautiful Sao Vicente coastline is a must-see for visitors. You can also take a horseriding tour starting from Santa Maria. The beach itself is beautiful to explore and you can get lessons on how to kitesurf or ride the waves. Whether you're looking for a romantic getaway or an action-packed adventure, there's something for everyone in Cape Verde.
Santa Maria, the main city of Sal, is a lively town with plenty to do. It's also home to some of the best hotels, so you can expect your luxury vacation to meet your expectations. Just minutes away from your luxurious hotel, you'll find some of the island's most beautiful beaches. The clear blue waters are a great place to swim and enjoy water sports. You can also visit the Weighhouse, a historical structure where salt was weighed before being exported.
The island of Sao Vicente is home to two major festivals – the Sao Vicente Carnival and the Baia das Gatas Music Festival – both taking place during the first full moon weekend in August. The island of Sao Vicente is also home to the world-famous singer Cesaria Evora, who recorded the world's first album in 1932. The island is also famous for the Pico do Fogo, the highest peak in Cape Verde.