Dubai at Night 4K in Stunning: A Breathtaking Tour
Take a breathtaking tour of Dubai at night in stunning 4K resolution. Experience the city's iconic skyline, including the Burj Khalifa, the world's tallest building, lit up against the night sky. Explore the bustling streets and admire the futuristic architecture…
Take a breathtaking tour of Dubai at night in stunning 4K resolution. Experience the city's iconic skyline, including the Burj Khalifa, the world's tallest building, lit up against the night sky. Explore the bustling streets and admire the futuristic architecture and colorful lights.
From the shimmering fountains of the Dubai Mall to the towering hotels along the Marina, this video captures the essence of Dubai's thriving nightlife.
About AbroadScape
AbroadScape is a Travel channel about the best places from around the world.
Please support our channel and subscribe now! We appreciate it ??
https://www.youtube.com/channel/UCcfL1oTRnrUORijN2Lx5pmw/?sub_confirmation=1
#dubaiatnight #dubai4k #dubai4kvideos
The Best Islands to Visit in Malaysia
Malaysia's islands are just as picturesque as those of Thailand, but much less crowded. They offer tropical beaches, rainforests, and colonial towns amidst clean mountain air. Many of these islands are also great for snorkeling. These are just a few of the many attractions that make them the best islands to visit in Malaysia.
JapaMala
Located off the coast of Peninsular Malaysia, JapaMala is a paradise for those who love the outdoors and a little adventure. The island has a variety of activities for tourists, including diving and snorkeling. Guests can also enjoy a relaxing massage in one of the two treatment rooms.
For a romantic getaway, the islands offer seclusion on the beaches and world-class snorkelling. There are also waterfalls and tropical jungles in this tropical paradise. In 1958, the movie 'South Pacific' was filmed on the island, and Time magazine listed it as one of the world's most beautiful islands. Although this island has lost a little of its exotic mystique, it has maintained its unique natural environment and wildlife.
The JapaMala Resort on Tioman Island is an eco-luxe boutique resort set amid 11 acres of tropical rainforest. Its rooms are decorated in soft colors and local wood. The resort has two restaurants and offers free kayak rental for guests. It also serves house-made Asian snacks in the evenings. Its beachfront location means that you can enjoy the beauty of the island in a more natural setting.
Langkawi
While you are on Langkawi, you should take time to visit the island's famous rice garden. The fields are emerald green, and you can also visit the nearby museum to learn about the production and harvesting of the local staple. Visitors can plant rice in the gardens, but they should remove their shoes before they do so. Visiting a rice garden requires you to get dirty.
You can observe various kinds of animals on Langkawi. The island is home to a variety of monkey species. You may also encounter cows on the roads. While the Silver leaf monkeys are very sweet, be careful not to feed them as they can become aggressive.
Although Langkawi is a small island, it is packed with activities. The best time to visit the island is from November to April, when the island receives the most sunshine and least rainfall. However, the winds start to increase in May, and you may experience thunderstorms. The rainy season runs from August to October. You can also visit Langkawi during one of its festivals. On the island, the Ibrahim Hussein Museum hosts the Langkawi International Festival of Arts. The festival features art, dance, and poetry.
While on the island, you can take a scenic speedboat ride to Pulau Payar, which is a popular attraction. If you prefer a more secluded beach, you can head to Tanjung Rhu. You can reach this secluded beach via the Tanjung Rhu roundabout, which is on the left-hand side of the road.
During the rainy season, you can also take part in a number of outdoor activities such as surfing and paragliding. The island also has several hidden treasures scattered throughout it. Locals and tourists flock to the beaches during festivals and other events. Cable car rides and wildlife expeditions are other exciting activities to enjoy. You can also try skiing or snorkelling.
Perhentians
The Perhentian Islands are located near the border with Thailand. They are difficult to reach by land, but you can take a ferry from Kuala Besut, the nearest town. The ferry to the islands takes about an hour, and the trip costs $15. You can also take a bus from Kuala Lumpur to Kuala Besut.
You can visit the Perhentian Islands year-round, but it's best to avoid the monsoon season. The rains are very heavy in July and August, and most resorts close their doors. This time of year also brings more visitors and higher resort prices. Although the Perhentian Islands are very safe, you should consider the weather conditions and safety precautions. If you're visiting during the rainy season, the water could be rough and you'll want to avoid the waters if possible.
When it comes to exploring Malaysia's islands, the Perhentian Islands are one of the best choices. These tropical islands are ideal for those who love the beach and are looking for an escape from the bustling city life of Kuala Lumpur. These islands are also perfect for those who love nature, water sports, and underwater life.
The Perhentian Islands are also known for their large population of turtles. During the nesting season, the turtles come to the shore to lay their eggs. If you are lucky, you might get to see the baby turtles waddling into the sea. For the best view of the turtles, ask the locals when the hatching season is.
If you are a scuba diver, the Perhentians offer some of the best diving in Southeast Asia. The visibility is over 20 meters, and the water is warm enough to dive without a wetsuit. It's also possible to dive on wrecks, including the Sugar Wreck, which is accessible to all levels. Another good wreck diving spot in the Perhentians is the Vietnamese Wreck, which is deeper and has fewer marine life.
Rawa Island
The rawa Island is a coral island located in the Mersing District of Johor, Malaysia. Its nearby islands include Harimau and Mensirip. This island is perfect for snorkeling, swimming, and relaxing. It is also home to many tropical fish species.
The island is surrounded by a pristine beach and thick forest, which make it a quiet and serene location. The island is also a great place to try water sports, like kayaking. Kayaking around the island is a fun way to get some exercise, as well as spend quality time with family. Water slides are also available on the island, which are suitable for both adults and children.
While on the island, you can climb the Rawa Hill for panoramic views. This 5-minute trek up the hill will reward you with a stunning view of the island and the surrounding area. However, you should be aware of the fact that the island is private and the ferries from Tioman Island do not stop on the island. You can arrange for a private speedboat at the resort's office when booking your stay. Be aware that the island becomes overcrowded during the monsoon season, so it's better to visit before then.
If you are looking for a peaceful and relaxing holiday, you should definitely consider visiting the rawa Island in Malaysia. It has a great beach, turquoise waters, and friendly locals who will make you feel at home. The island also boasts a relaxed atmosphere, which will make your holiday the most memorable one.
Rawa Island is home to many fish species. You can watch the ocellaris clownfish, known as Nemo, as well as the green humphead parrotfish, which is about a meter long. Other fish species include bluespotted stingray and blacktip reef sharks.
Sipadan
Located off the coast of Malaysia, Sipadan Island is one of the most beautiful destinations on Earth. Located in the Kapalai and Mabul provinces, the island is accessible by air. The closest airport is Tawau Airport, in Sabah. It offers provisions for international flights. You can also fly to Kota Kinabalu International Airport, though this will add approximately one to 1.5 hours to your trip.
Getting a Sipadan diving permit is simple. It's a good idea to purchase a dive package for two or three days, as this allows you to dive at several dive sites. Besides Sipadan Island, other diving sites are also available nearby. You can also dive in the Turtle Cavern, Barracuda Point, White-tip Avenue, and South Point.
One of the island's most famous sites is Turtle Cavern, which is a deep cave about 20 metres deep. It is also popular with underwater photographers. While snorkeling or diving, you should choose a reputable dive center to ensure a safe dive.
The water in Sipadan Island is rich in corals and fishes. The island's powerful currents provide nutrients for coral growth. In addition to the colorful corals, you can also enjoy the dazzling array of tropical fishes and eagle rays.
Sipadan is also home to some of the most exotic marine life in the world. While snorkeling or diving, you can view a range of reef sharks and turtles. You may even spot a manta ray or hammerhead shark.
Sipadan is accessible year-round, though the best months are between April and October. While diving in Sipadan, make sure to avoid the monsoon season, which runs from November to March. In addition, you can expect reduced visibility in shallow waters.
Taking a gap year can be a great way to figure out your college major or explore other options. The time off from school allows you to travel and discover your personal interests. One of the best times to take a gap year is during the summer. Many top universities promote gap years and even offer scholarships for them. Here are some reasons why taking a gap year is a good idea. It can be expensive, but it's worth it!
Expenses of a gap year
A gap year is a great opportunity to explore a new country and culture. It is also a good time to volunteer and intern, as well as to de-stress. However, it is important to consider that a gap year does not come cheap. If you want to take a gap year, it is important to save as much money as possible. Not only will this help you pay for the trip, but it will also teach you how to manage your money better.
Your biggest expense will probably be air travel between countries. However, it is possible to find multi-destination tickets, which cover several flights for one price. These tickets are often cheaper than booking tickets for each destination separately and are usually faster. One of the most inexpensive regions to travel is Asia, where tickets can be purchased for around $650.
Many students are drawn to a gap year because it offers an opportunity to gain valuable skills. It also gives them the opportunity to travel independently, work in a foreign country, or develop their leadership skills. Additionally, gap year programs can help students build skills that can be useful even if they don't end up pursuing that particular profession.
Another advantage of a gap year is that it can provide you with an additional year of college. After a gap year, it can be difficult to get back into the swing of school and your peers. As a result, you can fall behind when you return to school and have trouble catching up with them.
Another option is a work placement year. While it may involve more money up front, it also offers the chance to explore a new country and city. You will have a chance to meet new people and experience new things, and you won't need to worry about Expenses of a gap year.
Another way to save money while on a gap year is to limit the number of big purchases that you make. You may find it tempting to upgrade to the latest mobile phone or buy the latest luxury mattress, but delaying gratification can help you achieve your goal. It will be more fulfilling to achieve your gap year dreams if you are able to say no to a few things.
Before you leave for your gap year, decide where you want to go. If you can afford it, you may want to consider a destination that has cheap transportation and low cost of living. Many backpackers and students take their gap year in Southeast Asia or South Africa. There are many cheap activities and cheap lodging in these locations.
If you have plans to take a gap year, you need to talk with your school's admissions office. They will be able to approve your plan and explain how the gap year will affect your financial aid. If you have no desire to go back to school after a gap year, you may have to sacrifice your financial aid.
Benefits of a gap year
Having a gap year offers many benefits. For example, you can get to experience a different culture and meet new people. A gap year can also help you learn to communicate well with a diverse group of people. Many businesses will look favorably on a resume if the applicant has spent time abroad. Plus, a gap year lets you relax and unwind. Many people stay in touch with their new friends for years after the program is over.
Another benefit is that it allows you to learn a new language. As the world's economy continues to grow and globalize, it becomes increasingly important to learn a foreign language. Language learning is now promoted in more colleges, and many employers seek bilingual candidates. Learning a new language is also a great way to "rewire" your brain.
Another benefit of a gap year is that it offers a chance to develop skills that will be useful once you start working. These skills can include organization, resilience, and cultural awareness. Studies show that gap year graduates have higher rates of employment and higher satisfaction with their jobs. It also helps you build confidence.
While you are on a gap year, you can volunteer in your local community. Volunteering in a local food bank or animal shelter can be beneficial, and can help you meet new people. Volunteering can also help you find your identity. These are just some of the many benefits of a gap year.
Experts have described gap years as a modern-day rite of passage. They believe that this experience is crucial for developing self-confidence and critical thinking skills. It also offers a fresh perspective on life and learning. Many young adults today have become aware of the benefits of a gap year. As a matter of fact, President Obama's daughter chose to take a gap year between high school and college, which gained public attention.
Volunteering for a nonprofit organization such as City Year is another great way to gain valuable skills and experience. By volunteering, you will learn to work with children and teach in a classroom setting. In addition to gaining valuable experience, you will also develop your interpersonal skills. Having these skills and experiences will be highly valued by hiring managers.
Taking a gap year will provide you with the chance to explore your interests and get a feel for who you are. This time will also allow you to determine your future career path. You will have more time to do things you love while you're away from the rigors of academic life.
The best time to visit Nepal depends on your preferences. If you love trekking and are looking for clear skies and fresh air, the best time to go is March to May. Then again, you can also visit the Chitwan National Park between September and November. However, if you want to see the best wildlife, visit between April and May when the park is in its dry season and water sources are scarce. If you want to see wildlife but aren't keen on the heat, you can go between January and March, which is a good compromise.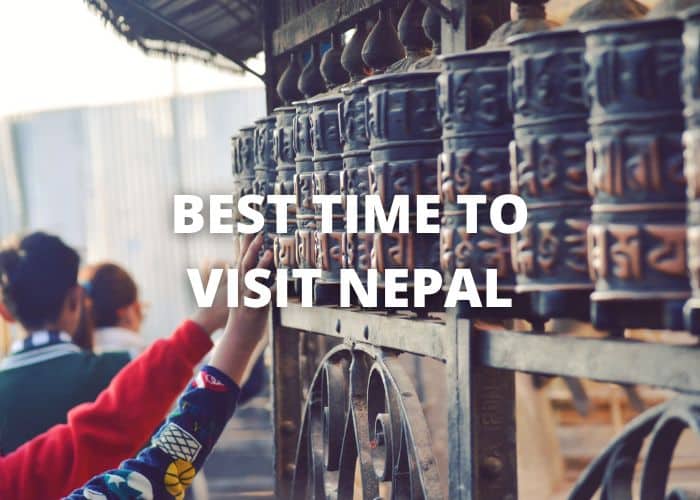 Monsoon season
Traveling to Nepal in the monsoon season from May to September will give you a chance to witness the most beautiful scenery and spiritual sites. While temperatures may be higher, the weather is also more manageable, and you'll find that trekking trails are usually quieter. The monsoon season is not the worst time to travel to Nepal, but it is important to be aware of the risks that come with it. Although rain can be heavy and the roads may be closed due to landslides, the mountains are still covered with clear, beautiful views.
The monsoon season typically begins in mid-June and lasts until late August, but the dates can vary. During this time, clouds can obstruct mountain views, making travel difficult. Because the rains can cause landslides, many trails are closed. Monsoon season can also disrupt transport and decrease tourism. However, the weather is generally warm and pleasant throughout the country. However, there are some places in Nepal that are only accessible during the monsoon season.
While the monsoon season in Nepal is not the best time for mountain climbing, it is the best time for trekking and mountaineering in the region. Although the winter months are harsh, summers are more pleasant for city tours and volunteering work.
Autumn
Autumn is the best season to visit Nepal for sightseeing and trekking. Autumn offers the best visibility and weather conditions. This season is also ideal for viewing endangered wildlife and plants. It is also the best time to take a jungle safari. You'll have a better chance of spotting the elusive Bengal Tiger and other animals during this time.
After the monsoon season ends in late September, Nepal will see a gradual change in weather. During this time, temperatures will be in the low 20s Celsius and low 70s Fahrenheit. You'll also experience plenty of sunshine. September is also one of the best months to trek in Nepal. You'll be able to enjoy clear skies, moderate temperatures, and beautiful views. The fall season is also the time when many festivals are held in the Himalayan region.
Autumn is also a great time to see the harvest festivals. The Janai-Purnima festival is very similar to Raksha Bandhan in India. And the Kora Cycling Competition is another fun and exciting event to behold. With all these festivals, you'll find autumn in Nepal to be one of the most exciting times to visit Nepal.
During autumn, you can easily spot animals at a distance. This is also the best time to see bird migration. In addition, autumn is also the best time to experience Nepal's cultural festivals. Usually, these festivals are held during the months of October and November, although the dates can change.
Spring
There are four main seasons in Nepal. Summer is the hottest, but the build-up to the monsoon brings relief, and the rains bring the countryside to life. In the winter, the weather is mostly clear but can get seriously cold in trekking areas. Spring brings clear, warm weather. Autumn is cool and fresh, following the recent rains.
Summer is considered the off-season in the tourism industry, which means fewer tourists mean lower prices. In addition, summer is a great time for sightseeing and exploring Nepal's pristine landscapes. Most service providers also offer special deals during this time. You can also experience some of the country's traditional festivals during this time.
The weather is mild in Nepal during spring, which begins in March and lasts until late May. It is also the rhododendron blooming season, which means the scenery is a sight to behold. In addition, temperatures are typically around 30°F. However, you should avoid the monsoon season, when temperatures are around 95degF and humidity are high.
The climate is a major factor when choosing the best time to visit Nepal. Spring has stable weather, so trekking routes are less crowded. Also, higher mountain areas offer the best conditions for high-altitude treks, such as the Annapurna Circuit Trek or Kala Pattar. The weather is also warm enough to enjoy off-the-beaten-path treks. In addition, a number of festivals are held in spring. These include Holi, Nepal's New Year, and Yarthung Horse Festival, which is held in June in Manang.
Dashain
If you're considering a cultural tour of Nepal, then you're at the right time of year. Dashain, a Hindu religious festival, brings temples open to the public and devotees to flock to pray for the goddess Durga. The Taleju Bhawani temple, for instance, is open only during this time of year.
This is the largest and most important festival in Nepal and is celebrated throughout the country. It emphasizes the unity of the Nepalese people and universal brotherhood. In addition to celebrating the goddess Durga's victory over the demon Mahisashur, Dashain is a time for feasts, family gatherings, and traveling throughout the country.
October is a popular time to visit Nepal. The skies remain clear and temperatures are pleasant during this month. In October, you can hike the Himalayas and participate in the festival of Dashain. In November, temperatures rise to around twenty-six degrees in Kathmandu and 26 degrees in Pokhara. Temperatures are higher on the Terai and cooler in the mountains.
After the monsoon, the country experiences a dry season with low humidity. This is the best time to trek through the Himalayas, and trekking trails are uncrowded. However, the monsoon rains can still be heavy and snow-covered. Because of this, you will have to plan your itinerary carefully.
Full moon
While the full moon is a great time to visit Nepal, it's not the best time to travel during the month. Heavy rains can cause flights to be canceled and road closures are possible. Make sure to check with your hotel in advance of your trip for road conditions and pack waterproof clothing. Once the rains stop, the temperature remains very hot, so you'll want to bring an extra layer of clothes and keep your electronics in a waterproof bag.
If you're going to be trekking in the mountains, the best time to travel to Nepal is during the spring season. During this time, wildflowers bloom in abundance, and you can enjoy the beautiful scenery and the mesmerizing sounds of birds in the forest. The temperatures are mild in the lower elevations and moderate at higher elevations. If you're planning to spend a couple of days sightseeing in the mountains, this is an excellent time to travel to Nepal. During this time, you can also enjoy popular festivals like Holi, Mahashivaratri, Basant Panchami, and Buddha Jayanti.
If you're planning on getting married in Nepal, you'll want to make sure you book your trip for a full moon in September or October. Festivals in Nepal are governed by the lunar calendar, and the dates of the main celebrations change each year. For example, the Nepalese New Year falls in April, and the five major festivals are Holi (September/October), Tihar (November), and Teej (late summer). While visiting Nepal during these times, be sure to be respectful of the customs and respect their traditions.