Top 10 Things to Do in Thailand
If you're visiting Thailand, you'll want to spend some time exploring the countryside. One of the most popular hiking spots in Khao Sok National Park, home to 300 species of birds. You can also take a cooking class or visit a temple. Whatever you do, make sure to follow these tips to make the most of your vacation.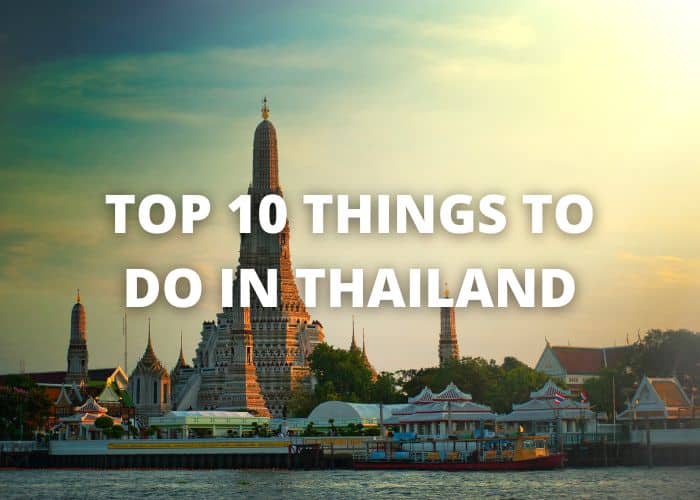 Khao Yai National Park
If you're looking for something to do in Thailand that will give you a taste of nature, Khao Yai National Park is one of your top options. This park is easily accessible from Bangkok and has two campgrounds. If you're looking to spend the night in a tent, you'll want to consider renting your own equipment. Keep in mind, though, that macaque monkeys are known to sneak into tents.
The park's biodiversity means that you can see a wide variety of animals, including gibbons, elephants, sambar deer, and pig-tailed macaques. You'll also notice a rich plant community, with five main types of vegetation. Birds in Khao Yai are easily visible, and you can often spot them from roadsides, old golf courses, and even watching towers.
If you'd like to explore the national park on your own, you should book accommodations in advance. There are two places where you can stay, each costing 800 THB for two people, or 1,600 THB for a family of up to 20. You should make your reservations online, but keep in mind that it can take up to 2 days to process payments if you're not from Thailand.
The weather is ideal for hiking in Khao Yai National Park during the cool season. Temperatures average 27 degrees Celsius during the day, and 13 degrees at night. The coolest season is between November and February, and is the best time to visit for wildlife and jungles.
Floating through a market
One of the top things to do in Thailand is to float through a floating market. These unique markets have been around for decades and are a popular way to experience riverside shopping. Floating markets in Thailand are referred to as Taladnaam and are made up of several types.
Floating through a floating market is a great way to experience the local culture. These markets are bustling, but aren't crowded. The best time to go is early in the morning. There are few tourists and many locals at the floating markets.
Floating markets are great places to grab a bite to eat or pick up random trinkets. Some markets offer boat tours, while others have walking tours. The most popular floating market is Amphawa, where the whole community transforms into a floating market on the weekends. It's a great way to escape from the hustle and bustle of Bangkok.
Floating through a market is a great way to experience Thai culture. It's a unique experience that can be enjoyed by everyone. This traditional market is the oldest floating market in Thailand. Visitors can learn about Thai history and culture by exploring the historic buildings that line the canal. You'll also get to see the vendors at work selling fresh seafood and other local wares. The BTS Sky Train stops at Bearing Station, where you can take a short taxi to the floating market.
Amphawa Floating Market in the Southwest of Bangkok is another great way to experience Bangkok's local culture. It's one of the oldest floating markets in Thailand, and you'll find local vendors selling fresh seafood, Thai desserts, clothes, and souvenir items. Amphawa Floating Market is open for hours and offers a relaxing environment.
Visiting a temple
Visiting a temple is one of the best ways to experience the Buddhist religion. The atmosphere is sacred, and it's important to respect the rules of etiquette. You shouldn't wear anything that is too revealing or offensive, and you should avoid taking selfies or kissing other worshipers. In addition, alcohol and smoking are not permitted in the temple complexes. Visitors can donate to the temples in small donation boxes.
There are many temples in Thailand to visit. If you have time, visit the White Temple, one of the most unique in Thailand. Its architecture blends traditional architecture with modern art, resulting in a unique blend of art and architecture. The Temple was renovated by a young Chiang Rai artist using his own money, and it includes nine buildings. The central ubosot is decorated with traditional symbols and modern pop culture symbols. Admission to the temple costs 50 Baht.
Visiting a temple in northern Thailand is a unique experience. The temples of Chiang Mai are particularly noteworthy. The city's center, Wat Chedi Luang, is filled with temples and is considered to be the most beautiful in the country. Chiang Rai is home to the White Temple, a unique example of modern architecture blended with traditional elements.
Visiting a temple is one of the most popular things to do in Thailand. In addition to Bangkok, other famous temples in the country include Ayutthaya. The former capital of Siam, Ayutthaya's UNESCO World Heritage site contains ancient temples, palaces, and sculptures. One of the most popular sites in Ayutthaya is Wat Phra Mahathat, which contains a statue of Buddha with its head entwined in the roots of a tree. The other highlights include Viharn Phra Mongkol Bophit, which has the largest bronze Buddha image in the country.
Taking a night safari
If you're looking for a truly unique experience, taking a night safari is one of the top things to do in Thailand. You'll get to see all kinds of animals in their natural habitats and enjoy an educational experience as well. The Chiang Mai Night Safari is a favorite with families. You'll get to ride on a tram and get up close to many of the animals that come out during the night.
The hill tribes in northern Thailand are a top destination for tourists. These people have an incredible culture and give visitors a glimpse of a world that's far removed from their own. However, their treatment and exploitation is questionable, so it's important to do your research before traveling to their villages. Choosing a guide who understands their culture is essential. It's also a good idea to stay away from the more popular villages so that you can experience a more authentic cultural experience.
If you'd prefer to observe wildlife in its natural habitat, you can visit Khao Yai National Park, one of the oldest national parks in Thailand. It's only a three-hour drive from the capital and is home to many species of birds and animals. The park is beautifully kept, and visitors can book a tour in the front of the park to get an idea of how wildlife lives.
Visiting an ancient city
If you've never been to Thailand before, you may want to consider visiting the ancient city of Ayutthaya, also known as Ancient Siam or Muang Boran. This historic complex covers more than 200 acres and is one of the largest outdoor museums in the world. It features replicas of Thailand's most famous architectural and historical sites.
Located approximately 40 km south of central Bangkok, the Ancient City is a great day trip from the city. The site is very quiet, and you can explore the many life-sized statues of ancient Thai buildings. It is definitely worth a visit!
Visiting an ancient city is one of the most popular things to do in Thailand. The Grand Palace, which is over two hundred years old, is the most famous attraction in the city. It has served as the official residence of Siam kings since 1782. Other must-visits include the Emerald Buddha and the Temple of the Reclining Buddha. You can also visit Wat Pho, which has the largest reclining Buddha in the world. Wat Arun, also known as the Temple of Dawn, is another beautiful temple in the capital.
While visiting the Erawan Museum, you'll want to dress appropriately. While sandals are acceptable, it's best to wear proper clothing. If you haven't brought any Thai clothing yet, the ticket office will let you borrow a pair of Thai pants for free. Just make sure to return them when you're finished with your visit. Another fun thing to do in Thailand is to rent a traditional Thai costume for Instagram photos. There's a store near the ticket office.
Best Places to Visit in Thailand
In this article, I will introduce the best places to visit on your next trip to Thailand.
Koh Chang Archipelago
If you're in the mood for a day of snorkeling and sunbathing, Koh Chang is the perfect destination for you. There are 54 islands in this archipelago, and you can take a boat ride around them to explore their beauty. The best part is that the boat rides are inexpensive: the most basic boat ride is about 15 U.S. dollars for two people.
Koh Chang is the second largest island in Thailand, and it is located further north than the other famous islands. This island combines nature and modernity to make it a popular holiday destination. The islands are home to several national parks, and it's possible to snorkel along its pristine beaches.
There are also countless interesting sites to explore in the area. Excursions to lush waterfalls, a scooter tour around the island, and visiting temples are all popular activities on Koh Chang. Guests should consider booking accommodations on the island, including Castaway Beach Bungalows.
While you're in the archipelago, make sure you plan your trip around the island's monsoon season. This is the time of year when rainfall is most abundant. The high season is December to May. For this reason, it's advisable to visit during this time to explore the island in greater detail.
While you're in the region, you may want to visit Salakok, a fishing village surrounded by mangroves. It's home to Wat Salak Petch, which is a small temple with large serpents hanging on the handrails. The temple is decorated with colorful statues and has strict rules for visitors.
Bangkok
One of the best places to visit in Thailand is the city of Bangkok. A visit here is a must for anyone who loves culture and the arts. The southern part of the country is full of spectacular islands in the Andaman Sea. Koh Mook is a picture-perfect island and the perfect base from which to explore the many other islands nearby.
You should also visit the Khao Sok National Park, which is home to elephants, sun bears, gaurs, and other wildlife. This park also features a bat cave and waterfalls. You can also go on a trekking adventure. Whether you choose to go on a jungle tour or explore the limestone caves, you will be able to find an adventure that suits your interests.
Another place to visit in Thailand is the railway market. This market is located 90 minutes from Bangkok. While it may not be as impressive as the city, it offers a glimpse into local market life. You can buy fresh produce, souvenirs, and other goods from the many stalls here. It's also home to a train that passes through six times a day. The train's warning siren will let you know when the train is approaching.
The Historical Park of Ayutthaya is another unique place to visit in Thailand. It is the former capital of the Lanna Kingdom and looks like a fairytale. You can also explore Chiang Mai, an ancient city with many historical temples. The city also has many restaurants and guesthouses, but it is not as popular with tourists.
If you don't know where to start when you visit Thailand, consider visiting a small city on the edge of the country. Mae Hong Son is a provincial town with distinct cultural influences and fewer tourists than other parts of the country. Its low-key atmosphere is a perfect option for those who are unfamiliar with the culture.
Khao Yai National Park
Khao Yai National Park is a vast expanse of forest inlaid with rushing rivers. Its largest waterfall, Haew Narok, is 150 meters high and can be reached by hiking. The park also features a viewpoint from which you can enjoy panoramic views of the surrounding area.
Travel to Khao Yai is easiest during the dry season when roads are clearer and the vegetation isn't as thick. You can even hike jungle trains more easily. During the wet season, the park's vegetation is thick and the forests are more tropical. Visitors should wear leech socks and breathable clothes during this time to avoid getting bitten by leeches.
There are numerous accommodations at Khao Yai National Park. If you don't want to rough it, you can rent a cabin or bungalow. The prices vary, but you'll have access to hot showers and a bed. For a few hundred Baht per night, you can enjoy the park without breaking the bank.
If you don't have a car, you can take a minivan or bus to the park. The trip will take around two and a half hours.
When planning your visit, make sure you know the best time of year to visit. You'll need to find out which months are best to visit the park. You'll also need to plan your transport.
For the best views, head out at dusk and dawn. The park is home to a wide variety of wildlife, so wildlife spotting is a popular activity here. If you plan to stay overnight, you can take a night safari. This is a great way to see the animals in the night, although it's not a guarantee that you'll spot elephants!
Mae Sariang
Mae Sariang is a small town situated near the mountains. It's home to the famous Wat Phra That Chom Kitti temple, which is surrounded by lush rice fields, mountains and forests. You'll see different shades of green throughout the four seasons.
In the morning, you can check out the Mae Sariang morning market, which is open from 8 AM to 10 PM. At night, you can try authentic Thai street food and shop for souvenirs. If you're visiting during the colder months, you can also go for a boat ride on the Salween River.
Although Pai is more of a tourist destination than a hippie retreat, it's still a great base to explore the mountains and the nature around it. Many soul-searching backpackers also make Pai their home. However, if you're looking for a quieter experience, Mae Sariang is a better choice.
Getting to Mae Sariang from Chiang Mai is not a difficult journey. It's a short drive and you'll arrive in the town in about three hours. But beware: the road is not smooth and some Thai drivers like to drive fast. To avoid trouble, drive slowly and keep your eyes open.
When visiting Mae Sariang, be sure to visit the Mae Sariang Museum, built in the Mon architectural style. It embodies a mixture of cultures and features a beautiful multi-tiered roof design. The museum has exhibits on the history of the town and the local Tai Yai people.
The town of Mae Sariang is situated in a picturesque mountainous area. The town is surrounded by rolling hills and lush forests. There's a waterfall nearby, the Mae Sawan Noi waterfall, located about 20 kilometers before Mae Sariang. Despite its name, the waterfall isn't a cave, but rather a stream. The waterfall is spectacular in the rainy season.
Best Beaches to Visit in Thailand
Thailand is a land of beautiful beaches and ancient ruins and is a popular vacation destination for travelers. The country also has an ultramodern cityscape and many famous temples, such as the Emerald Buddha Temple, that are worth visiting. If you're looking for an easy way to spend a day at the beach, there are several popular resorts in the country, including Hua Hin and Pattaya.
Railay
If you're interested in seeing the natural wonders of Thailand's coastline, then Railay is a great choice. Its pristine waters are filled with a sparkling display of bioluminescent plankton. The best time to see these creatures is when the weather is clear and the moon is not full. There are even tours available to help you find these fascinating creatures.
Railay is located in the province of Krabi in Southern Thailand. Although it is technically connected to the mainland, looming cliffs prevent road access. The only way to get there is by boat or on foot. There are trails that lead you from the bay to the beach, and you can explore the lush jungle as well as enjoy adventure pursuits.
Rock climbing is a popular activity in Railay. There are many limestone cliffs that make for some amazing views. Kayaking is also an excellent way to explore the Railay peninsula. You can rent kayaks by the hour or for the whole day and explore the water from a different perspective.
The best time to visit Railay is from November to March. This is when the weather is warm and pleasant. While it is not a crowded beach, it offers beautiful and relaxing surroundings and warm Thai hospitality. It is also a great place for snorkeling, although it is not recommended for the east end of the beach. The best places to snorkel are near rocks or reef fish. Just be sure to watch out for longtail boat traffic.
One of the most beautiful beaches in Thailand is Railay Beach. It has limestone cliffs and caves, sandy beaches, and crystal blue water. This remote location allows visitors to truly experience the natural beauty of this beautiful beach. The beach is surrounded by cliffs that are high enough to reach by boat.
There are a few good restaurants on Railay. Most of these serve local Thai food. Seafood is abundant and plentiful, and the local cuisine is often considered halal. Those who practice Islam can also find halal food options.
Koh Lanta
Located in the Krabi province, Koh Lanta is a gorgeous island with many beautiful beaches. The majority of the island's beaches are on the western coast, but a few are located in the southern part of the island. These beaches have relatively few tourists and are unspoiled by mass tourism, so they're ideal for those seeking a quiet getaway. While there are a few restaurants, bars, and sand-side lounges, you'll never feel overrun.
One of the best aspects of Koh Lanta is its cultural diversity. The majority of the island's residents are Muslims who are descended from Malaysian fishermen. Although this island is free of fundamentalists, you'll find that locals are generally incredibly friendly and welcoming. This island combines the paradisiacal atmosphere of South East Asia with Muslim hospitality.
One of the most beautiful beaches on the island is Long Beach, which is more than just a beach. There are top-quality resorts behind the shore, offering cute bungalows and swimming pools. Long Beach town is also filled with soy-scented kitchens and reggae-bumping beer bars.
The best time to visit Koh Lanta is during the off-season, when prices drop up to 50% compared to peak season. During this period, many hotels are closed and the number of tourists is lower, making it easier to find accommodations. The cost of a room here is still very affordable by western standards, with prices ranging from 10 to 20 euros per day.
The island has several hiking trails, and visitors can explore the beautiful nature that surrounds them. The Koh Lanta National Park features a lighthouse, beautiful sandy beaches, and even some monkeys. However, you should avoid feeding the monkeys as this will encourage them to attack you. While you're here, make sure you check the local laws and regulations regarding the use of monkeys and rabies vaccinations.
While Koh Lanta offers a variety of accommodations, most hotels are located on the west coast. Klong Dao beach is a popular area with plenty of restaurants and shops nearby. The Royal Lanta Resort and Spa is located right on Klong Dao Beach, which is popular with tourists. Rooms here are spacious and well-equipped, and there are numerous bars and restaurants.
Best Time to Visit Thailand
The best time to visit Thailand depends on the type of experience you're looking for. You may want to travel during a particular season or during an event, or you may only have a short window of time to spend in the country. November to March is the busiest travel season in Thailand. During this time, the temperature remains in the high 20s Celsius, but the humidity is lower and blue skies are more common.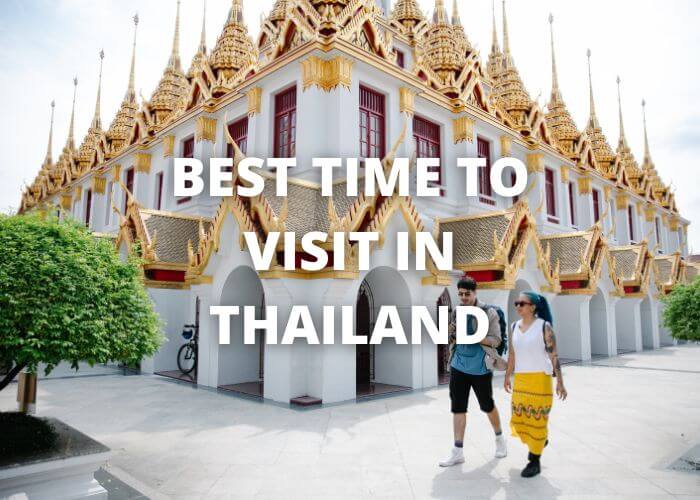 November through February
The best time to visit Thailand depends on your preferences and budget, but November through February is generally considered the best time to visit. Beaches on the east coast are often dry and sunny during this period, and the prices are often lower than during the wetter months. If you want to enjoy diving off the west coast, January is the time to go. Also, this is a good time to explore lesser-known parts of Thailand.
November through February is Thailand's shoulder season. The dry weather allows for a more relaxing time on the beaches and temples. You can also enjoy special festivals, such as Chinese New Year, during this time. The islands in the Andaman Sea are particularly spectacular during this time. The country also celebrates Songkran from 13th to 5th April.
The shoulder season is also considered to be the best time to visit Thailand. While temperatures are still high during this period, the chances of thunderstorms are minimal and the rain will cool down the weather. However, you should be aware that the beaches are closed during storms. During this time, you will be able to take advantage of some great deals on accommodations and tour packages.
While the rainy season is still present, it is not as bad as the summer months. October is the wettest month, especially along the Andaman coast. By the end of October, the northern and central regions will dry up, although heavy rainfall will still be experienced. In addition, crowds are smaller and prices are lower during this time.
The southern region of Thailand has fewer distinct seasons than the rest of the country. It has two distinct coastal zones: the Gulf of Thailand and the Andaman Sea. If you're looking for sunny beaches, November through February is the best time to visit Thailand. During the rainy season, water sports can be dangerous and boat services may be canceled.
From late December
In late December and early January, Thailand experiences its high season, with the weather being relatively cool and rain-free. However, there are still some drawbacks to traveling during this time. Flights during this time are often the most expensive and hotels often have stricter policies around holidays. This is why travelers are advised to plan their trips well in advance.
The southern peninsula has cooler weather than the rest of the country, with temperatures hovering around 70 degrees. The western Andaman region is drier, with just nine rainy days during the month. Although January is a popular time, Thailand is also extremely crowded during this time, so you should expect long lines at tourist attractions. If you can, try to visit big attractions during the week, so as to avoid peak times.
The weather in Thailand is ideal for tourists in January, with temperatures ranging from 70 degrees to 90 degrees. You'll find that Bangkok is full of activity, which makes for great people-watching. January is also a great time to visit Chinatown, where the vibrant lights of the Chinese New Year illuminate the streets.
If you're visiting Thailand during the Chinese New Year, you'll have a chance to see dragon dancers and drummers throughout the city. In early February, you can enjoy the Flower Festival in Chiang Mai. This three-day festival features chrysanthemums and damask roses. And in late September or early October, Thailand celebrates its Vegetarian Festival.
If you want to avoid the rainy season, you'll want to visit Chiang Mai in February and April, or during the holiday season during the Loi Krathong festival in November. While there is a chance of rain during the cool season, temperatures in Chiang Mai will be more comfortable than during the summer months.
During the rainy season
While December to January are the hottest months in Thailand, the shoulder season (late December to June) has a more comfortable temperature. Heavy rains and thunderstorms will cool off the temperatures and are helpful for water sports in some areas. If you plan to go on a multi-day hill tribe trek, consider visiting during cooler months, as temperatures will be cooler.
Thailand is popular all year round, but the rainy season has its peaks in different areas. The rainy season comes and goes in different seasons, with destinations in the west taking the full brunt of the monsoon season. Eastern coast destinations, however, enjoy more predictable weather conditions. While January is often a bit chillier, temperatures are still very comfortable and the rainy season is over.
During the rainy season, Thailand experiences a wet season, which can make trekking and other outdoor activities difficult. However, the scenery in northern Thailand is much more picturesque and lush, and you can find cheap flights to the mountain city of Chiang Mai. During the rainy season, you can also find some of the best hotel deals.
If you're visiting Thailand during the rainy season, the best time to go is in June/July. There are fewer tourists and prices are lower during this period. However, the rainy season is also very hot. You'll find more tourist activities during this time, so it's worth visiting during this time.
Despite the rainy season, Bangkok is a great city all year long. The rainiest months are October and September, with temperatures averaging 27-29 degC. In the rainy season, Bangkok is cooler and offers plenty of indoor activities. You'll have the chance to explore the city's markets, including the 'Amazing Grand Sale' held from mid-June to mid-August. Discounts abound, and you can save up to 80% on many items.
During the shoulder season
The shoulder season in Thailand is the best time to visit, as the weather is pleasant and the country is not overly crowded. The shoulder months run from April to September, and prices are low. However, you must be aware that you may encounter an occasional short or heavy rainstorm. While the rain will keep the temperatures cool, the rain will also make the water unsafe for swimming and water activities.
The peak season is December/January. This is the time when tourists flock to Thailand. Hotels are typically booked months in advance. However, if you plan your trip around the lunar new year, the prices are low and the weather is pleasant. Also, be sure to plan your trip around the water festival Songkran, which is held during mid-April.
Visiting Thailand during the winter months is a great way to save money on flights and hotel rooms. This is also the time when many families choose to travel to Thailand, since children are out of school and parents are taking advantage of the extended holiday time. December and January are the driest and coolest months of the year, making them the perfect time to enjoy outdoor activities in Thailand. Despite the cold weather, Thailand's temperatures are still warm for travelers from colder climates.
The best time to visit Thailand is between November and early April, when temperatures range from 84degF to 97degF. If you're into diving, you might want to visit the south west coast during this time, which has calmer seas and fewer visitors.
During the monsoon season
Thailand has a unique climate, so you may not be able to enjoy the sun's rays at all times. From April to May, the country experiences its hottest temperatures. Then, from July to September, the country experiences its monsoon season. These months are also the wettest, stuffiest and most uncomfortable. But that doesn't mean that this time of year is completely miserable. You can still travel to Thailand, even if it isn't the most comfortable time to travel.
While the weather is comparatively pleasant in most regions of the country, the best time to visit Thailand is from November to February. During this time, the north-east monsoon winds blow and temperatures tend to be slightly higher than during other months. The north and northeast regions experience a cool climate during the dry season, while the south is dominated by heavy rain from late September to early December.
The monsoon season is also the best time to visit Thailand for sightseeing. You can take in a wide range of natural sights at a lower price. You can also enjoy scuba diving or snorkeling in the Gulf of Thailand during this time. It is also a good time to visit lesser-known parts of the country.
If you want to avoid the hottest season, the best time to visit Thailand is between November and February. During this time, the northeast monsoon blows cool and dry air, providing respite from the heat. During this time, temperatures in southern Thailand are usually in the low to mid-eighties, while the temperatures in northern Thailand can drop to minus 30°C.
The weather is pleasant during the month of April and May. However, the weather can turn hot in the inland, so make sure to book your accommodation with air conditioning. Also, bring plenty of water and plenty of sunscreen. There are also many religious, public, and cultural holidays during this time, such as the Pattaya International Music Festival, which is free and open to the public.