Volunteer Laos
Why volunteer in Laos? Why Travel to Laos? Volunteer Opportunities in Laos Why join Volunteer Programs in Laos?
If you're considering to volunteer in Laos, consider traveling to Laos and joining a volunteer program. Volunteering in Laos offers a variety of opportunities that can help you make a difference in this beautiful country. You can help build a wildlife sanctuary, teach English to local children, or work with local farmers to help develop organic farming practices.
Why volunteer in Laos?
Laos is a fascinating destination for a volunteer program, especially for those who are interested in helping the country's people. The country has a long history of conflict, and the Vietnam War has left an impact on many communities. While some places have remained relatively unspoiled, others have seen a lot of devastation. If you want to volunteer in Laos, consider working with a local organization.
Volunteering in Laos is a great way to help the country's people in an ethical and sustainable manner. Laotians are warm and welcoming to visitors and volunteers. In fact, they are ranked third in the Rough Guide's list of friendliest countries. In addition, you'll receive free or low-cost accommodation.
Laos is an underdeveloped Southeast Asian country and has been attracting more tourists in recent years. The population is still relatively underdeveloped, which means that the country has a significant need for committed volunteers. The country is surrounded by Vietnam and Thailand, which makes it a less popular destination for travelers.
Volunteering in Laos is a great way to meet new people and get to know the local culture. The country is known for its food, and its local cuisine will impress even the pickiest eaters. Try the local delicacies like larb, freshly baked baguettes, and rich local coffee. There are plenty of activities to do while in Laos, so there's bound to be something for everyone.
Whether you're interested in helping the local people or working in an orphanage, Laos is the perfect destination for your volunteer project. Laos is easily accessible from Southeast Asia cities such as Bangkok and is a wonderful destination for international volunteers. Volunteers can help improve the lives of local people through a variety of projects, including teaching English or building daycare centers.
Teaching English to novice monks is one of the most rewarding volunteer placements in Laos. Monks in training need to learn English in order to get better-paid jobs and to apply for scholarships. Your willingness to teach English will be appreciated by eager students.
Why Travel to Laos?
Traveling to Laos for volunteer work is a great way to experience the country and its culture. It is possible to reach Laos easily from major cities in SE Asia, such as Bangkok. The country is also very beautiful and is home to a number of exciting volunteer opportunities. However, it is important to note that there are a number of factors to consider before embarking on a volunteer trip. First and foremost, you should be prepared for a challenging environment. Do not expect a beach holiday, but expect some challenges to help you get to know the locals. However, the rewards are great. You will get to experience more local life and enjoy the richness of the country away from the glitz and glamour of the tourist industry.
Traveling to Laos is also an incredible opportunity to immerse yourself in the culture and the local customs. If you wish to learn about the country's unique history, culture, and religion, a volunteer trip to Laos may be the perfect way to do it. There are many opportunities available for cultural immersion, including meditating with a local monk who can speak English and give you valuable insight into the country's traditions.
The country is home to a rich variety of flora and fauna. Some new species have been discovered in the country, such as the Saola antelope and the Kha-nyou rodent family. Volunteers in Laos should take special care to ensure responsible wildlife viewing. They can visit an ethical elephant sanctuary or a moon bear rescue center, and take part in day hikes to observe gibbons and other animals in their natural habitat.
Volunteer Opportunities in Laos
There are many volunteer opportunities in Laos, both with international charities and with local NGOs. The country has a population of around six million people, many of whom live in poverty. Volunteering in community-based projects can help these people, and is an incredibly rewarding experience. Teaching and coaching English to local children and young adults are two excellent options. Both activities provide hands-on experience and can be performed in schools and community centers.
You can join the volunteer projects of Beyond Volunteer in Laos, where they have volunteering projects in Luang Prabang.
When traveling to Laos, be aware of the country's conservative culture. Volunteers should pack modest clothing and avoid wearing revealing clothes. It's advisable to bring your own travel insurance because road conditions can be dangerous. In addition, mosquitoes and dengue fever can affect travelers in Laos.
Volunteering in Laos can be very rewarding. There are many reputable organizations that will match your skills with the needs of the community. You can participate in community-based projects, assist with schools and monasteries, or volunteer in conservation projects. Laos has a wide range of volunteer opportunities, so it's important to research each organization and find one that meets your interests. You'll come home with experiences and memories that will last a lifetime.
While volunteering in Laos, be sure to learn the local language. Many Laotians speak English and French, but it's highly recommended that you learn some Lao. Learning the language will help you immerse yourself in the culture. Volunteering in Laos is a great opportunity for people who love culture, the natural environment, and sustainable development.
Volunteers in Laos can work in schools and daycare centers to help underprivileged children. They can also teach English or decorate buildings. While volunteering in Laos, you can also help promote basic hygiene awareness among local children. You can even help them learn English through a local language school.
Why join Volunteer Programs in Laos?
Volunteer programs in Laos can offer a number of benefits. They can offer a chance to learn English and work with local communities. They can also help build wildlife sanctuaries. In addition, some projects in Laos will place volunteers in educational and community-based settings, including teaching English to children and adults and working with organic farmers.
Volunteer programs in Laos can provide a unique opportunity to help disadvantaged communities. For example, many programs in the Laos Solidarity office aim to provide menstrual hygiene products and hold free health workshops. Volunteers with healthcare experience can also support the Lao Friends Hospital for Children, which provides free health care for children under the age of twelve.
Volunteer programs in Laos typically involve 4 to 6 hours of work a day, with two days off each week. The work schedules are flexible and can be booked a year in advance. Most programs can start in any month of the year, meaning that there is no "best" time to start.
Volunteer programs in Laos can be extremely rewarding. The country is home to many beautiful landscapes and friendly locals. The experience of working in Laos can be life-changing. You will be able to experience life in another culture with new friends. And you can help contribute to a better future for future generations of Laotians.
Best Volunteer Programs in Laos
Volunteer in Luang Prabang (Laos) Teach English in Luang Prabang GIVE's Projects
Looking for the best volunteer program in Laos? Here are the top volunteering programs in Laos that you should consider in 2022 and 2023. Let's get started with the number one recommendation.
Join the volunteer program in Laos, where they have volunteering projects in Luang Prabang. There are different projects that you can join including teaching English, working in a kindergarten, doing construction work, and even cultural immersions.
Volunteering in Laos is a unique experience and a wonderful way to give back to the community. Volunteers will get to speak the language, engage in local customs, and travel throughout the country. Many volunteers arrive with little experience and return with new skills, which will help them in the job market when they return home.
Volunteering abroad has a variety of opportunities, including medical work, teaching English, and helping build schools and community centers. Volunteers will get the chance to interact with the local community and learn about local customs and traditions.
Teach English in Luang Prabang
You'll be immersed in the Laotian culture as a Laotian English teacher and help to improve the lives of local youth. You'll be teaching conversational and practical English to children and young adults in Luang Prabang. In addition, you'll be contributing to the various educational institutions in the area.
When you teach English in Luang Prabang, you'll be part of a vibrant community that's full of history and culture. The town is full of colonial French mansions and temples that date back centuries. In 2004, the ARDA Luang Prabang Language Centre opened its doors to serve the English language learning community in Luang Prabang. In addition to classroom and library services, ARDA also hosts informal teacher-student events.
As a teacher, you'll enjoy interacting with local students in their schools and helping to improve their English. Students in Laos are trying to learn English in order to get better jobs in the country. There are many good jobs available in the country and many good ones require English skills. The tourist economy is booming and the need for English speakers is growing.
GIVE's Projects
GIVE's Laos Volunteer Program is an off-the-beaten-path adventure that immerses volunteers in a rich culture. Volunteers can take part in a variety of programs, including English teaching, organic farming, wildlife conservation projects, hiking, and meditation with monks.
GIVE's Laos Volunteer Program aims to give volunteers an experience they will never forget. The country is home to a diverse population of people from different backgrounds. Laos is a beautiful country with many beautiful sites. The people are friendly and welcoming, and they will make you feel right at home. The country is home to over 130 different ethnic groups and two-thirds of the population is Buddhist. Volunteering in Laos is an excellent way to experience this country and help build its infrastructure and community.
GIVE's Women's Empowerments Project is a highly-regarded international volunteering organization. It aims to improve gender equality, ensure equal access to education, and empower local women to break the cycle of poverty. If you want to make a difference while volunteering in Laos, consider GIVE's Women's Empowerment Project.
The program works with women in rural villages to give them an education and access to sanitary products. In addition to providing the women with menstrual hygiene kits, the project also conducts reproductive health workshops through its ambassadors. GVI supports three young women to teach these workshops, which are conducted in both the local language and English. The workshops are free of charge and aimed at improving the lives of the local women.
Women in Laos are one of the most disadvantaged groups of people. They have limited access to education, and their participation in village activity is often limited. In addition, women in Laos are often illiterate and do not speak the national language. Moreover, prevailing social and cultural norms prevent them from speaking up.
Volunteers can also learn English and work with children. Many organizations in Laos have programs focusing on these sectors. Other popular projects include working with Buddhist monks, teaching English, or working with the environment. Volunteers can also participate in construction or renovation projects.
If you're looking to volunteer in Laos, there are a few different ways to get involved. If you're not sure where to start, here are some helpful tips: get vaccinated against Hepatitis A & B, Typhoid, Rabies, and Japanese Encephalitis. In addition, make sure to take extra precautions if you're traveling in crowded areas.
Luang Prabang
Volunteering in Laos is a great way to travel to a new country and help others. It is not only a great way to gain valuable experience, but it also helps you learn about the country's culture and history. There are many reputable programs available, and you should be able to find one that suits your interests and goals. You'll come home with experiences and memories that will last a lifetime.
To volunteering in Luang Prabang Laos will allow you to engage in local projects that help to address regional development challenges. You'll also get to learn about the city's history and the best attractions. This city is rich in both man-made and natural heritage, and it tells a fascinating story of the country's past and its future.
You can volunteer to teach English or computer lessons at LEOT, a non-profit organization in Luang Prabang. Volunteers will be able to help students who may otherwise be unable to attend English classes or computer classes. Additionally, they'll be able to mentor and assist Lao teachers, helping them improve their teaching skills. Volunteers don't pay to work for LEOT, and the commitment period is flexible.
When volunteering in Laos, be sure to observe the cultural customs. The country is primarily Buddhist, with about 60% of the population following Theravada Buddhism. The remaining population is animist, and Christianity and Islam are not widely practiced. You'll also find that there is a distinct cultural hierarchy. Laotians value respect and obedience.
Pha That Luang
If you're visiting Pha That Luang, you're likely to experience the Laotian pride that this stupa represents. The structure is built on three levels and is filled with Buddha images, altars, monuments, and smaller stupas. It is also covered in gold leaf, and is considered one of the best architectural works representing Buddhism in the world.
When planning your trip to Pha That Luang, make sure to consider the season. The rainy season in Laos occurs from May to September, although temperatures are warm throughout the year. In the late summer and early fall, you'll find more rain than usual. The country has a mild climate year-round, with temperatures averaging in the 70s. However, do note that Laos is one of the world's most bombed countries – during the Vietnam War, over two billion tons of bombs were dropped on the country.
If you're in Pha That Luang for an extended period of time, you can spend your time volunteering with an organization that helps disadvantaged children. This organization also focuses on educating children in English. Volunteer opportunities are posted outside the shop on a regular basis. When you visit the organization, take the time to talk with the staff about their work and how you can help.
The history of Pha That Luang is not known for certain, but it's believed to have been built on top of a smaller stupa that was originally built by King Saysetthathirath. This king was of the Cham ethnic group, which once ruled much of South East Asia. The Cham people are believed to be descendants of settlers from Borneo and Sumatra. The king was one of the first Khmer kings to embrace Buddhism.
NamKhan Project
Volunteering in Laos is an excellent way to give back to the community. Located in Southeast Asia, Laos is a landlocked country that has a long history of isolation and war. It is a predominantly Buddhist country with a rich culture. Volunteers will help to build the country's infrastructure, and they will find that Laotians are incredibly welcoming and friendly.
The NamKhan Project runs an eco farm in Luang Prabang, Laos. Volunteers will be able to learn about organic farming and permaculture. They will also have the opportunity to work with the locals on the farm and teach them English. The farm is located 5 km outside of Luang Prabang, making it accessible to travelers.
While volunteering in Laos, you will also have the chance to see the country's natural wonders. Luang Prabang is home to UNESCO-listed temples and monasteries. There are optional side trips from Luang Prabang, including a trip to Kuang Si waterfall and kayaking on the Nam Khan River. You will also be able to visit the Royal Palace Museum and the historic sites of Wat Xieng Thong and Wat Mai.
Khamla
Khamla, Laos is known for its mountains, and the landscape here is incredibly beautiful. You can explore the mountains by walking, biking, or horseback riding. There are also many great restaurants. You can dine on local cuisine or indulge in a fine meal in one of the hotels.
In Laos, FPIC has not yet become a mainstream concept, and farmers and other landowners are still fighting for their rights. In response to these challenges, the government has begun a process of drafting a draft land law, which will clarify customary and communal land rights and provide full compensation in the event of expropriation. In 2012, Laos also enacted a moratorium on concessions, with an aim to revise all contract leases to protect the rights of the landowner.
The city has numerous temples, and the locals are very friendly. They welcome visitors and provide all the necessary information. Khamla is also a popular destination for backpackers and adventurers alike. The city's many hiking trails provide an excellent opportunity for hiking and mountain biking. While there, you should be prepared to spend a few days exploring the area.
The town's Buddhist temples are worth visiting. The ancient Pertuni Buddhist temple is the most well-known landmark. Located on the hillside, this temple is a popular place to visit.
Vieng Xai
If you are interested in working in rural Laos and want to experience life in a foreign country, you can volunteer with the SAELAO Project in Vieng Xai. The project focuses on sustainable development through education and projects that help local communities improve their livelihoods. Most volunteers teach English, and they also help with farming and sustainable building projects. Volunteers are expected to contribute at least five hours per day for two weeks. Highly skilled volunteers may stay longer.
Volunteering in Laos allows you to immerse yourself in local culture while making a real difference in the community. This Southeast Asian country has a diverse range of volunteer programs, and you can choose a program that is both challenging and rewarding. You may choose to focus on language education, childcare, construction, or conservation, or explore the country's cultural and natural attractions. There is no shortage of activities and experiences in Laos, so there is sure to be something for you!
When choosing where to volunteer in Laos, be sure to choose a destination that is safe and easy to travel in. Many areas are off-limits for tourists due to unexploded ordnance left behind by decades of war. Moreover, backpackers are an obvious target for thieves. Many backpackers make the mistake of getting drunk in Vang Vieng, leaving themselves open to theft.
Indigenous Pathways
The Australian Government's Indigenous Pathways for volunteers in Laos is a culturally safe, flexible volunteer program for Indigenous people. Since 1986, volunteers from Australia have supported a range of partner organisations in Laos. Culturally, family is very important in Laos and volunteers are often required to take time off for family reasons. The country also values the elders highly and children often live with their parents until they marry. In some cases, a large extended family lives under the same roof.
Despite the rapid growth of the Lao economy, nearly half of the population lives in poverty. As a developing country, Laos relies on international donors to fund development. It received $387 million in foreign aid in 2011 alone. But even with these efforts, the country remains in need of international assistance.
Volunteering in Laos is a great way to make a difference while traveling. Volunteers can participate in a variety of projects, from teaching English to Buddhist monks to supporting conservation efforts. Read on to discover how you can get involved. Then, start your search for the perfect volunteer opportunity!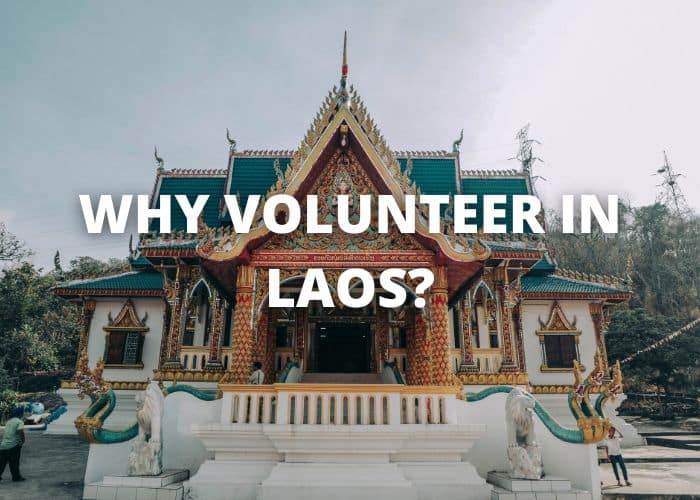 Fair Trek
If you're looking for a unique way to volunteer in Laos, the Fair Trek program is a great option. The program combines community-based tourism with travel to rural communities. Through this program, visitors will meet local people and learn about the culture of the Laos people. They'll also have the opportunity to help build schools and other local facilities.
As a volunteer in Laos, you'll be able to help protect the region's rich biodiversity. The country is home to a range of unique flora and fauna, including the rare Saola antelope and the Kha-nyou rodent family. Volunteers should be aware of how to observe wildlife responsibly. Laos has ethical elephant sanctuaries and moon bear rescue centers, and a day hike can give you a glimpse of the country's elusive gibbons.
Fair Trek's Laos volunteer program offers volunteers the opportunity to teach English to the local population. Volunteers will be trained in basic English grammar and vocabulary and help local children learn new words. They'll also be trained to work on organic farms and other community projects.
Teach English to Buddhist monks
If you are interested in helping others learn English, there are many opportunities in Laos. You will immerse yourself in the local culture while teaching English to young people. This is a rewarding experience that will benefit both the students and the teachers. You will be teaching conversational and practical English. Your class may include young adults and children. Depending on your personal interests and skills, you might also work on projects that improve the educational capacity of the community.
Many students in Laos' schools are aiming to learn English in order to get better jobs. In addition to this, the tourist economy is growing in Laos, and many good jobs require good English skills. This will help them provide better service to tourists. In addition, many monks in Laos are interested in learning English.
Volunteers in Laos are able to share their knowledge of the English language with the monks. However, volunteers should be prepared to be creative in their methods of teaching. Since not all monks are able to be touched, volunteers should be patient and flexible. Some Buddhist monks do not allow women to touch them directly, so volunteers may need to deliver items by placing them on secondary objects. Volunteers should be able to help novice monks improve their English skills, and will gain a deeper understanding of Buddhism in Laos.
In addition to teaching the monks, volunteers can also volunteer in the Santiphab secondary school library. Volunteers can teach disabled students and landmine survivors at the English Learning Centre. By teaching English, volunteers can make a real difference in the lives of others.
Teach English
If you're looking for a unique way to give back to a developing country, consider volunteering in Laos. Working in conservation efforts is an effective way to help local communities, and it can also help you gain valuable work experience. Many conservation projects in Laos need English-speaking volunteers.
Before choosing your Laos volunteer project, do some research to make sure the organization is reputable. There are many reputable programs to choose from. Make sure to do your research to find a program that will fit your needs and your skill level. Once you find a place to volunteer, you'll have memories that will last a lifetime.
You can choose to teach English to conservationists in a rural village. Volunteers are usually placed in schools or communities, and you will be responsible for teaching English to local children and adults. It's a rewarding experience, and it has many benefits for the community. Teaching English in a rural area has become increasingly important as a result of a growing number of tourists.
To get around the country, you can hire a motorbike. Some smaller towns can be walked, but you'll need to plan your travel accordingly. You should also consider buying travel insurance if you're planning on using public transportation. The country has an extensive public transport system, but bus travel can be sporadic, so you'll need to make plans accordingly.
Volunteering in Laos will give you the chance to meet local people and learn about their work. In return, you'll earn anywhere from six to 13 million kips per month, a little more than $1000.
The Luang Prabang English Project aims to develop the English speaking skills of Laotians. Having the ability to speak English opens up a whole world of opportunities for children and young adults, including professional careers in the growing tourism and service industries. Volunteers working on this project will work with a variety of local communities and special projects.
While Laos has a booming economy, the country still faces many pressing challenges. These include gender inequality, health, infrastructure, and education. Teaching English is vital in helping the country overcome these challenges. You can expect a monthly salary of 500 to 1000 USD per month, but your hourly pay will vary according to the type of job.
Teachers in Laos generally earn 6,000,000 to 13,000,000 kips (about $600-1,500 USD) a month, which is enough to cover the costs of living in the country. Room and board situations are usually included in the program fees, so volunteers typically choose to stay with a host family. Volunteers often work 3-5 hours a day.
Laos is an underdeveloped country, so the demand for English teachers is not as great as in neighboring countries. Most of the teaching positions are unpaid or volunteer work, but there are also paid opportunities in private English language schools. Most English schools in Laos offer twenty to thirty hours a week, and the low cost of living makes it possible for teachers to live comfortably on a small salary.
When teaching Lao, you should keep in mind that the Laotian language is a tonal language. There are six tones in Laotian, and words with the same pronunciation may have different meanings when spoken in different tones.