Volunteer Sri Lanka
Why volunteer in Sri Lanka? Volunteer Opportunities in Sri Lanka Why join Volunteer Programs in Sri Lanka?
As a volunteer in Sri Lanka, you'll be part of a large and welcoming community. You will easily participate in daily life, attend events, and visit people's homes. Volunteering in Sri Lanka is an excellent way to help the local community and gain valuable experience. The country is in need of medical assistance, English language teaching, and childcare, and there are many ways to get involved.
Embark on an extraordinary expedition with Abroad Escape and unlock the gateway to make a profound difference in Sri Lanka! Embrace the chance to embark on a life-changing adventure as a dedicated volunteer. Our esteemed volunteer programs in Sri Lanka empower you to design a personalized itinerary, enabling you to partake in the most fulfilling and influential projects that this remarkable country has to offer. Prepare to embark on an unforgettable journey filled with purpose, where you will discover the true essence of volunteering and leave a lasting impact on the beautiful communities of Sri Lanka.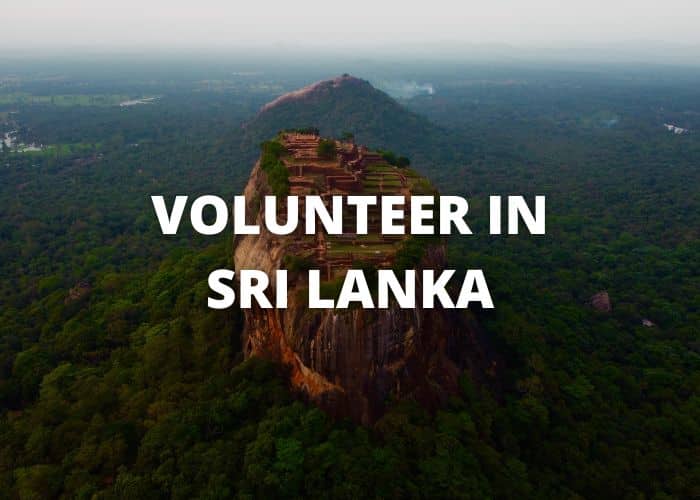 Why volunteer in Sri Lanka?
During your stay, you'll have the opportunity to experience different cultures, cuisines, and lifestyles. You can experience deep-fried snacks, coconut, and fish, and experience the culture from different angles. In addition, you'll be exposed to wonderful beaches, mountains, lush forests, exciting wildlife, and magnificent cities with ancient histories.
You'll be able to see some of the country's greatest treasures, including the Sigiriya fortress, which is regarded as the eighth wonder of the world. You can also experience wildlife in the Yala National Park, where elephants, crocodiles, and langurs live. You can also visit Kandy, where historic temples and Buddhist relics are found.
As a volunteer in Sri Lanka, you'll gain the chance to experience the local culture and help people overcome poverty. Many rural people are living below the poverty line. Education is valued in Sri Lanka, and its literacy rate is one of the highest in Asia. Therefore, helping to improve the quality of education is a rewarding experience. Teaching English and vocational training to underprivileged children in rural and semi-rural areas is an excellent way to contribute to improving the lives of the local community.
Volunteering in Sri Lanka gives you the opportunity to leave a lasting handprint on the community. By helping out in orphanages and schools, you'll provide hope to children and give them the opportunity to live better lives. Volunteering in Sri Lanka is also an excellent way to improve your own life. If you are a teacher, teaching English to children could boost your career prospects.
When you choose a project, you can choose from a variety of organizations in Sri Lanka. You can volunteer with an elephant conservation project or help impoverished communities. You can also work as a medical volunteer.
Volunteering in Sri Lanka is a great way to give back to a developing country. The country is currently recovering from thirty years of war and a devastating tsunami. While urban areas have progressed significantly since the tsunami, rural areas are still struggling. Fortunately, there are many opportunities for volunteers to help rural communities. These opportunities range from teaching English and IT to eradicating dengue and improving sustainable forest management. You can also get involved in animal rescue to help the local wildlife.
Volunteering in Sri Lanka is a great way to travel and experience the island. The island has many highlights to visit, including Sigiriya, a massive fortress considered the eighth wonder of the world. You can also visit the wildlife-filled Yala National Park to see elephants, crocodiles, and langurs. And while you're there, don't miss the historic cities of Kandy, where you can visit Buddhist relics and ancient temples.
Volunteering in Sri Lanka is a great way to give back to the country while having an amazing experience. There are many volunteer opportunities in the country, including orphanages, wildlife conservation, temple renovation, and teaching English. In addition to these, you can work with children with special needs or the elderly.
Volunteering in Sri Lanka will help you experience the island's culture and help local communities grow. This will allow you to develop lasting friendships while engaging in the local culture. You'll also be part of the growing eco-friendly movement in the country while contributing to a better future for the country's people.
Volunteering in Sri Lanka can help you learn a new language and experience the local culture. You can teach English to local children or help monitor elephant populations in national parks. You don't have to have a teaching qualification to volunteer in Sri Lanka. You can also help local teachers in rural areas or work with minority Muslim students in schools. In addition, you can teach English language lessons to students.
Volunteer Opportunities in Sri Lanka
There are many opportunities to become a volunteer in Sri Lanka, with many different options for those with diverse skills. Volunteers can work on various projects from helping in government schools to working with children with disabilities.
Other opportunities include working in medical settings and assisting in community development. You can volunteer in areas as diverse as Galle on the southwest coast or Badulla on the eastern slopes of the central hills. It is important to note that these projects often require you to be physically fit, have good communication skills, and respect the local culture.
The majority of volunteer programs in Sri Lanka are located in the capital city of Colombo. This city has a great mix of old and new and is a popular tourist destination. Other popular locations for volunteering in Sri Lanka include Negombo, a fishing village near the coast, and Pusseleya, a beautiful region near the Wasgamuwa National Park.
Volunteering in Sri Lanka is a great way to experience diverse cultures and help the country grow stronger. Volunteers may work on projects in the arts, education, medicine, physical therapy, temple restoration, or other fields. These opportunities allow them to experience the beauty and diversity of the country while helping the locals.
Many volunteer projects in Sri Lanka focus on environmental projects or community development. Volunteers will help protect the environment and wildlife while meeting friendly locals and experiencing a new way of life. In addition, volunteers may also be able to learn new languages and IT skills while interacting with the local community. They will get to see many different types of wildlife, as well as learn about the ancient history of Sri Lanka.
Many local charities in Sri Lanka seek international volunteers for their projects. You may also be interested in teaching English to students or working with children who are disadvantaged. Teaching English in this way can help these children develop their confidence and learn how to express themselves in English.
Why join Volunteer Programs in Sri Lanka?
Volunteer programs in Sri Lanka give people the chance to contribute to a country with incredible needs. This island nation, which was once torn by civil war, is struggling to develop its education, health care, and infrastructure. Volunteers can experience Sri Lanka's vibrant culture and learn new skills by helping the locals. The programs may also include planned excursions.
Medical volunteer programs in Sri Lanka are available for medical professionals who want to make a difference in the lives of the country's underprivileged. Though volunteers cannot perform major surgeries or diagnostic work, they will have the opportunity to learn from local medical professionals and provide first aid and medical care to people who need it. They can also help with counseling and basic personal hygiene. Other volunteering opportunities in Sri Lanka include construction and community projects.
Volunteering in Sri Lanka is a great way to experience the country's culture, nature, and history. The country is home to beaches, elephants, and lush tropical forests. Volunteer programs in Sri Lanka are often set in remote locations, allowing volunteers to experience the island's beauty from a different perspective. Some programs focus on teaching English or IT skills to children or helping to protect the environment.
Volunteering in Sri Lanka can be a rewarding experience that will allow you to gain important life skills and make new friendships. In addition, it is a great way to expand your global perspective and learn about another culture. If you're interested in a life-changing volunteer experience, consider teaching English in a developing country.
Best Volunteer Programs in Sri Lanka
Abroad Escape IFRE PMGY GoEco A Broader View Volunteers
Here we will list the 5 best volunteer programs in Sri Lanka that you need to consider when you are thinking of going to Sri Lanka to do volunteering abroad. Let's take a look at our top 5 volunteer organizations in Sri Lanka.
Abroad Escape
One of the trusted volunteering organizations is Abroad Escape. With them, you can join their Sri Lanka volunteer programs and work in various worthwhile projects.
They have several volunteer programs in Sri Lanka for people who want to make a difference. These programs range from child care to building schools, and even wildlife conservation. These projects offer adventure, friendship, and the chance to help a community in need. And if you're a nature lover, you'll love the chance to help save wild elephants.
Their programs in Sri Lanka also provide a chance to learn about the country's history and culture. With various volunteer opportunities throughout the year in Sri Lanka. These programs can range from teaching English to local children to the conservation of turtles, they have several different volunteer opportunities in Sri Lanka. You can teach English, work with children, or even help elderly residents of the community. There are no formal qualifications to apply for this program, but you should be motivated, responsible, and flexible.
IFRE
Volunteering with IFRE is one of the best ways to help Sri Lankan wildlife. Not only can you help save endangered elephants from extinction, but you can also learn about the country's natural history. In addition to helping save wildlife, you will also be helping to improve the lives of local communities. If you are looking for an amazing experience, this organization offers a variety of volunteer opportunities to suit a wide range of interests.
Volunteers will help improve the lives of people in need in Sri Lanka's slums. Many slums have fallen into disrepair and pose a health risk to their residents. IFRE works with local communities to improve the conditions and empower the residents of these areas. During their volunteer stay, volunteers build lifelong relationships with local residents and learn about Sri Lankan culture.
Volunteers can help improve education in rural areas. Sri Lanka has a huge divide in education access between urban and rural communities. Most rural students rely on their local temples to get an education. By volunteering with IFRE, you'll be helping to improve these educational facilities by redesigning the learning spaces and beautifying the premises. You'll also help build libraries and plant gardens. You'll also be able to share your artistic skills with local children.
Volunteers can also help to protect the environment by helping to maintain the beaches. These beaches are becoming very polluted, and the efforts to clean them up are critical to the survival of turtles. While you're there, you'll have the chance to witness the natural beauty and live among the sea turtles.
PMGY
Volunteering in Sri Lanka is a wonderful way to meet local people and contribute to its economic development. The country is home to a variety of projects that are aimed at building local capacity and promoting democratic governance. Many of these projects are based in Central and Southern Sri Lanka and offer a variety of project types to fit your schedule and interests.
Whether you're a recent graduate or a seasoned medical professional looking to make a difference in the world, volunteering in Sri Lanka is an excellent opportunity. You'll meet locals, help build schools, or even protect wild elephants! All of these opportunities can help you gain invaluable experience that will enhance your resume and enhance your professional future.
If you're looking for a volunteer opportunity that is both rewarding and affordable, the best programs are those that provide a combination of both. GoEco, for example, is a great choice, with good reviews from past volunteers. Its programs are known for being highly impactful and are often endorsed by major media sources. In addition, its rates are very competitive, making it an ideal choice for people who want to travel while volunteering.
PMGY is one of the top-rated volunteer programs in Sri Lanka, as volunteer stories on social media often mention the friendly, professional staff. In addition, many participants mentioned that they would want to repeat their experience.
If you're looking for a volunteer program that allows you to work with a local community, consider volunteering in Colombo. The country's largest city and the island's capital city, Colombo is home to many different volunteer projects. If you're interested in working in the city, make sure to specify this preference when booking the program.
GoEco
If you're looking for a volunteer program in Sri Lanka that helps you meet new people, you can consider volunteering with GoEco. This nonprofit organization helps care for stray and abandoned dogs and teaches English to monk students. Volunteers can also help the organization take care of ill and abused animals.
Volunteers help improve the lives of local slum residents by tackling issues of poverty, pollution, and sanitation. There are many slums in Sri Lanka that have fallen victim to dereliction, threatening the health of their residents. Volunteers will help improve conditions in these areas by repairing infrastructure, planting gardens, and creating libraries. Volunteers will make lifelong relationships with community members, gain valuable experience and help empower the residents.
Volunteers will receive education on basic medical procedures. Some volunteers will also learn how to work with medical supplies that are limited. Other volunteers will work in an elderly care home, which provides free housing to 75 adults. Volunteers will help sick elders take their medication, assist in cleaning, and prepare meals.
Volunteering in Sri Lanka can be a life-changing experience. Volunteering will not only enable you to meet new people from different cultures but will also help you gain valuable experiences abroad. Not only will you make new friends, but you will also have a sense of accomplishment once your efforts have been completed.
The GoEco website has good ratings from past volunteers and is endorsed by major media. GoEco is also very affordable compared to other Sri Lanka volunteer programs, with fees that include airport transfers, local in-country support, orientation, and insurance. GoEco is an excellent option for volunteers who want to work with a charity in a developing country.
Volunteers may be able to stay at the project for two to eight weeks. The first week is spent on orientation, and after that, they are assigned to specific projects. The projects can include the construction of temples, childcare programs, or teaching projects. The work week is usually five days long. The organization also offers optional activities like trekking or a tropical beach week.
A Broader View Volunteers
A Broader View is a non-profit organization that focuses on placing compassionate international volunteers in underserved communities and developing countries. With programs all over Asia, ABV works with local communities to help them overcome their problems and improve their lives. The organization has a team of experienced professionals that specialize in environmental conservation, youth education, and humanitarian assistance. Since its founding in 2006, Jonathan Tal and Jonathan Gilben have put on more than two thousand programs and coordinated the efforts of thousands of caring individuals.
The company has an extensive database of former volunteers and high-quality volunteer reviews. The reviews from previous volunteers highlight the positive impact of the program, the attentive staff, and the quality of accommodation. Volunteers can also rest easy knowing that the program is fully refundable if they are unhappy with their experience. The fees for a week-long volunteer program in Sri Lanka start at $355 per week.
Volunteers are able to choose a variety of projects that are meaningful and culturally immersive. For example, an elephant experience program in Sri Lanka offers a chance to feed, bathe, and care for elephants in a safe and nurturing environment. Volunteers can also learn how to make handicrafts, which helps local entrepreneurs earn a living and teach their children a new skill. Childcare programs in Sri Lanka are also an excellent opportunity to improve the lives of underprivileged children.
Volunteers may choose to spend two or four weeks working on community development projects. The minimum age for participation in these programs is 17 years old. During the first week, volunteers will receive orientation and training and then be assigned to specific projects. These projects vary depending on the current needs of the community and may include a teaching program, childcare project, or temple construction. Volunteers will spend five days a week working in a community and will be exposed to Sri Lankan culture and customs. Volunteers are also given time to explore the country's beautiful tropical beaches and trek through lush jungles.