What is the Most Common Form of Volunteering Abroad?
If you want to volunteer abroad, you have a number of options. There are Placement groups, unpaid volunteers, and people with specialized skills. Before you join one, do your research. You will want to learn as much as you can about the organization and its work with the host community.
Placement groups
Volunteering abroad programs come in many shapes and sizes. Some are short-term while others are long-term. Long-term placements often require skills transfer and a longer commitment. They may also include supervisory duties or higher-level positions. Some placements offer free or low-cost opportunities.
Most long-term volunteer programs are run by nonprofits or profit-making organizations with the intention of empowering host communities. Volunteers' ultimate motivations, however, are largely self-serving. One study by Rebecca Tiessen found that the most common reason volunteers choose to volunteer abroad is for personal growth rather than for social impact.
Before you apply for a volunteer placement, make sure to research the organization thoroughly. Many organizations require basic language skills. Although English is the most common language requested for international volunteer work, other popular languages include Spanish, Portuguese, and French. Additionally, many volunteer placements focus on education and may require you to speak the local language.
The majority of international volunteers are highly skilled, but some are less experienced and participate in health-related programs abroad. Many pre-health profession students are required to have clinical experience in order to be accepted into their programs, which is difficult to acquire in their home country. This can result in situations where unskilled volunteers perform procedures that they are not trained for, which can pose significant ethical challenges.
When choosing a volunteering abroad program, be sure to consider the costs and the length of your stay. A few of these programs are free of charge, and others charge a fee. The fee should cover the organization's fees, transportation, and accommodation.
Unpaid volunteers
Volunteering abroad involves providing assistance to a developing country in need. These efforts can range from providing health care to disaster relief. Medical volunteers, for example, are qualified health professionals who offer their services on a voluntary basis. The duration of their service can vary from one day to several weeks. They may be sent by an organization to the destination, or they may volunteer independently. Volunteers do not receive a salary and are not required to register with the local government.
A common concern is whether volunteering abroad is a good idea. A positive aspect of volunteer programs is that they can result in close, personal relationships. Volunteering may lead to travel opportunities, work with vulnerable populations, or even wildlife encounters. As a result, it is important to make sure that a volunteer program is safe and ethical.
Volunteering abroad is an excellent way to gain hands-on experience while abroad. Although the numbers of volunteer programs in developing countries are small, these programs allow you to see the effect of your efforts. Volunteering abroad is a great way to showcase your hard work, passion, and motivation for a cause. Some volunteer opportunities focus on a specific field, such as teaching English to children, working in rural hospitals, or helping wildlife sanctuaries.
Volunteers with specific skills
Volunteering abroad is a great way to experience new cultures and meet new people. Whether you want to work with children, help build infrastructure, or teach English, there are many ways to get involved. While there are many options for volunteering abroad, there are many factors that should be considered before deciding on a location. A number of factors can impact your decision, including natural disasters and the economic status of the country. Some poor countries are particularly appealing for volunteers.
The best volunteering abroad program depends on your motivation and the skills you want to gain. For example, if you're hoping to learn a particular skill or acquire specific knowledge, it might be best to go through a well-known organization that will train you for that skill.
A common form of volunteering abroad is a program that requires specialized skills. Many international aid organizations work with volunteers with specific skills in order to solve a specific problem in a country. These organizations are usually independent of any government and rely on volunteers' contributions.
Volunteers who have specific skills are the most common type of volunteer abroad. These organizations are nonprofit organizations and depend on volunteers' fees for survival. However, some complaint about having to pay for free work. However, most volunteer organizations operate on minimal funds, so they cannot survive without the help of volunteers.
Volunteers with no specific skills
One of the most common forms of volunteering abroad is as a generalist, without any specific skills or background. This kind of volunteer works alongside local people in various projects, from animal care to teaching, and even builds schools. These types of projects usually take a week to a year, and volunteers can combine trips to a number of destinations.
Volunteering abroad is a great opportunity to give back to the community. It's also an experience that will broaden your perspective. You can get a first-hand view of the challenges that local people face and visit villages to learn more about their culture.
One of the most popular types of volunteering abroad is in the field of nature conservation. As a volunteer, you'll spend time with different animals and assist in the conservation of nature. There's no special training required for this type of work, but you will need to have compassion and a strong desire to help the local community.
Volunteering abroad can be expensive, so it's essential to consider the duration of your stay and your budget. It's also essential to do your research. Look for programs that match your skills, and research the volunteer organizations. You can also contact the organizations for more information.
Volunteers with knowledge of the local language
Volunteering abroad provides a variety of opportunities. For example, it can provide volunteers with the opportunity to learn the local language and culture while working for an organization. The best programs encourage volunteers to integrate into local society. They may live with a local family, observe local customs, and eat home-cooked meals. They may also be involved in professional development or job creation in the community.
Although volunteering abroad is often free, there are some costs associated with participating in such projects. For example, some organizations require volunteers to fund international travel and housing costs, which can be costly. Also, work permits and training are required for volunteer placements. While it can be tempting to volunteer abroad, it is important to consider the costs before agreeing to volunteer.
Volunteers with local language skills are valuable assets to partner organizations. Their presence can facilitate more effective and valuable healthcare interventions and help partner organizations improve their public health programs. As a result, volunteers can play an important role in global health. Volunteers with good language skills are often the best choice for such roles.
Volunteering abroad programs can be very rewarding, both for the volunteer and for the host community. The experience of living and working in a foreign culture is truly invaluable. Volunteers will learn the language, interact with locals and observe local customs and traditions. Many volunteers also choose to travel abroad during their free time.
Volunteers with technical skills
Volunteering abroad has a variety of forms, but the most common are those with technical skills. This type of volunteer service is often unpaid, although there are some opportunities to earn money while volunteering abroad. For example, if you have a skill that is in high demand in a particular region, you may be able to find paid work as a construction worker, teacher, or another aid worker.
Regardless of what type of volunteer activity you choose, it is important to be sure that you have relevant skills and experience. Using the skills you have will ensure that your time abroad is valuable to the project. Volunteering abroad can be a rewarding experience, and it will allow you to contribute your time to a worthwhile cause.
In addition to technical skills, you will be required to have a variety of skills and qualifications to be successful. Some volunteering programs require a Master's degree. Those with a passion for children and teaching will probably benefit from volunteering in a classroom setting. If you have experience in marketing, you may be able to find a volunteer position that will use your marketing skills.
Other types of volunteering abroad involve teaching English in another country. Volunteers who speak English in another language are in high demand in the communities that they visit, and learning a new language will open up new opportunities in the future. Other types of volunteer work include environmental conservation, permaculture projects, and sustainable farming. Volunteers in these areas often work outdoors and may also be involved in research-based work. These volunteer projects can help preserve biodiversity and increase awareness of environmental issues.
Volunteer in Siem Reap Cambodia
Cultural immersion Make a difference Personal growth Build meaningful relationships Affordable living Unique travel opportunities Opportunities to teach English Community development projects Wildlife conservation Meaningful experiences
Volunteering is an incredibly rewarding experience that can benefit both the volunteer and the community they are serving. Siem Reap, a city located in the northwestern region of Cambodia, is a popular destination for volunteers due to its rich culture and numerous opportunities to give back.
The best volunteer program in Siem Reap Cambodia is with Beyond Volunteer where they have several wonderful volunteering projects available. Click here for more info.
In this article, we will discuss why you should consider volunteering in Siem Reap, Cambodia.
Cultural immersion
One of the biggest benefits of volunteering in Siem Reap is the opportunity to immerse yourself in the local culture. Siem Reap is home to the famous Angkor Wat temple complex, which attracts millions of tourists each year. However, there is so much more to this city than just its famous temples. By volunteering in Siem Reap, you will have the opportunity to interact with locals, learn about their traditions, and gain a deeper understanding of the Khmer culture.
Make a difference
Volunteering in Siem Reap is a great way to make a tangible difference in the lives of those who live there. There are numerous volunteer opportunities available in the city, ranging from teaching English to working in community development projects. By volunteering, you can help improve the lives of local Cambodians and contribute to the development of the community.
Personal growth
Volunteering in Siem Reap can be a life-changing experience that can lead to personal growth and development. It provides an opportunity to step outside of your comfort zone, challenge yourself, and learn new skills. You may also gain a new perspective on life, learn to appreciate the little things, and develop a greater sense of empathy.
Build meaningful relationships
Volunteering in Siem Reap can also help you build meaningful relationships with locals and other volunteers. By working together towards a common goal, you can develop strong bonds with people from all walks of life. This can be especially beneficial for those who are traveling alone and looking to connect with others.
Affordable living
Siem Reap is an affordable place to live, making it an ideal destination for volunteers who may be on a tight budget. Accommodation and food are relatively cheap, and there are many affordable options available for transportation. This makes it easier for volunteers to focus on their work and contribute to the community without worrying about finances.
Unique travel opportunities
Siem Reap is also a great destination for those who love to travel and explore new places. The city is located near many other popular destinations in Southeast Asia, such as Thailand, Vietnam, and Laos. Volunteers can take advantage of their time in Siem Reap to explore these nearby countries and gain a deeper understanding of the region.
Opportunities to teach English
One of the most popular volunteer opportunities in Siem Reap is teaching English. Many local schools and community centers offer English classes to children and adults, and volunteers can help by providing additional support and teaching resources. By teaching English, volunteers can help improve the prospects of local Cambodians by giving them access to better job opportunities and higher education.
Community development projects
Siem Reap has a number of community development projects that focus on providing basic needs such as clean water, sanitation, and healthcare to the local population. Volunteers can help by working on these projects, either by fundraising or by physically assisting with the construction or implementation of these projects. By doing so, volunteers can make a significant impact on the lives of those who live in Siem Reap.
Wildlife conservation
Siem Reap is also home to a number of wildlife conservation projects. These projects focus on protecting endangered species such as elephants, tigers, and primates. Volunteers can help by assisting with research, caring for animals, and educating the local community on the importance of wildlife conservation.
Meaningful experiences
Volunteering in Siem Reap can provide some of the most meaningful experiences of your life. By contributing to the community, you can make a lasting impact on the lives of those who live there. The relationships you build and the memories you create will stay with you long after you return home. Volunteering in Siem Reap is an opportunity to give back, learn, and grow, all while experiencing a new culture and way of life.
In conclusion, volunteering in Siem Reap, Cambodia, can be an incredibly rewarding experience that provides numerous benefits. From cultural immersion to personal growth, volunteering in this city can help you make a difference in the lives of others while also benefiting yourself. If you are considering volunteering abroad, Siem Reap should definitely be on your list of destinations to consider.
How To Choose A Volunteer Abroad Program
Prerequisites for volunteering abroad Costs of volunteering abroad Project types Budget-friendly projects Identifying a project that aligns with your personal values
If you're planning to volunteer abroad, you should consider several factors before choosing a volunteer program. First, decide how long you want to stay. Some organizations specialize in long-term placements, while others offer short-term programs. This will help you narrow down your search. Additionally, consider the amount of money you want to spend.
Prerequisites for volunteering abroad
Some projects require specific skills and qualifications. Some require experience, while others just need enthusiastic people willing to serve the cause. Some projects require a good command of English. It may be useful to have previous work experience, or a background in medicine. If you are unsure of your eligibility, you can always contact the organisation and find out if it accepts volunteers with specific requirements.
Some students decide to volunteer abroad because they are unhappy in their current situation. But this is not the best reason to go abroad. Whatever your motivation, the problems at home will not disappear just because you volunteer abroad. They will probably follow you. While cross-border travel can lead to self-improvement, the best way to be happy abroad is to approach the experience with confidence and self-awareness.
One of the most important pre-requisites for volunteering abroad is having an open mind. Volunteering abroad is about gaining new perspectives and traditions, and sharing your skills. While your expectations for the experience may differ from the ones set forth by the organization, the open-minded and compassionate attitude are essential to the success of your trip.
If you have the inclination to help those in need, volunteering abroad is a rewarding experience. It enables you to share your expertise and knowledge, and it could even lead to a career. You can choose to participate in programs that last from two weeks to two years. They may be based in urban or rural settings, or in developing nations. But no matter the location, volunteer abroad programs are an excellent way to gain life experience, gain new friends, and make a difference in the world.
Some volunteer programs require a certain skill or qualification to get started. While this is not a necessity, it does make volunteer work easier if you have a skill that complements the work you'll be doing. For example, if you've always wanted to work with kids, then volunteering in an education program will let you practice your skills and help you develop your love of teaching.
Costs of volunteering abroad
When planning a volunteer trip abroad, it's important to understand the costs involved. Volunteer fees can range from a few hundred dollars to a few thousand. The amount that you'll need depends on the type of program you choose and the amount of money that will need to be exchanged. You may also have to pay for personal items, such as toiletries. It is a good idea to create a budget before you begin looking for a program.
While it can be costly to volunteer abroad, it's possible to cut costs by focusing on an area close to home. For example, if you're an American, volunteering in Latin America is a great option. Not only can you save hundreds or even thousands of dollars on airfare, but you'll also be volunteering in an area that has a low cost of living.
Volunteering in South Africa costs about $1,010 per week on average. There are many nonprofit organizations to choose from in South Africa, including Projects Abroad, which has many different types of volunteer opportunities. Some of these include farming and human rights projects. There's even a program dedicated to saving baby sea turtles, which costs a little more than $1,020 per week.
Volunteering abroad often requires training. Both new and experienced volunteers must familiarize themselves with the local language and culture as well as understand the day-to-day operations of a volunteer program. This training can take a significant amount of time and money. However, the training is worth it because you'll gain a greater appreciation for your time and effort.
If you choose to volunteer abroad, be sure to choose a nonprofit that has a proven track record. These organizations are known for providing immediate aid to communities in need, and ensure that the good work continues long after you finish the program. Also, make sure that you choose a nonprofit that has systems in place to ensure the skills and background of volunteer workers.
Project types
Identifying your personal goals and the goals of the organization you want to volunteer with are vital parts of choosing the right volunteer abroad program. Generally, most people looking for volunteer abroad programs have similar goals – they are looking to help others in a positive way and have an adventure. In some cases, they are looking to improve their language skills or personal skills. Others are looking to improve their travel skills.
It is also important to consider the culture of the country you are volunteering in. Volunteers who are not accustomed to the culture can be subject to culture shock. You should do your research on the culture, language, and education system of the country where you are volunteering. By doing this, you can make sure that your experience will be both meaningful and memorable.
Once you've narrowed down the countries you want to visit, you can start choosing a program that offers opportunities in that region. There are plenty of volunteer organizations in the world, but it's vital to find one that fits your ideal needs. Before you make a final decision on a destination, consider the language spoken in that country, and whether you want a rural or an urban environment.
There are many different types of international volunteer programs, ranging from a week to three years. Most have a set duration for volunteers, while others let volunteers decide their own dates. The shorter term (1 to three weeks) opportunities usually involve a specific project, while the longer term (3 to 10 months) programs are more about living and working with locals.
Budget-friendly projects
If you are interested in volunteering abroad but don't want to break the bank, there are several options available. You can choose from short-term, medium-term, and long-term projects. Some programs only cover food and accommodation, while others offer full supervision. Regardless of whether or not you have previous experience working with children or animals, these projects are an excellent way to give back while still having an affordable experience.
Before selecting a volunteer abroad program, you'll want to carefully research the projects available. You'll want to decide which type of activity you'd prefer, and you'll need to factor in the costs associated with airfare. Depending on your destination, airfare can cost as much as the actual program placement. Many volunteer organizations don't include airfare in their fees, so it's important to check on the cost before you commit to one.
If you're on a budget, consider volunteering in a country where you'll be able to support the local economy. There are plenty of opportunities in developing countries. Depending on your interests and skills, you might be able to help build schools, clean roads, and help out with a variety of projects.
If you're on a tight budget, look for programs that are local and run by smaller organizations. These programs often don't have the same administrative structure as a large international organization, and they may not provide a full package. However, these programs may still be an excellent choice if you're concerned about your financial situation.
Some programs will provide housing for volunteers. These will vary in size, but usually range from a small hut to a standard house or cabin. Volunteers will share rooms with other volunteers, although it's possible to obtain private rooms for a small fee. This option is usually only available in the slower seasons.
Identifying a project that aligns with your personal values
One of the most important things to look for when looking for a volunteer abroad project is whether the organisation you are applying to meets your personal values and goals. The majority of people looking for an international volunteer program have similar goals: they want to make a difference, enjoy adventure, and be a part of something bigger than themselves. They may also have academic and personal goals in mind, such as pursuing a degree abroad or becoming more independent. Some people even want to focus on improving their travel skills while they are abroad.
There are countless organisations offering volunteer abroad opportunities, but selecting the right one can be a challenge. Finding the right one will ensure that you have a positive impact that will be sustainable. Make sure you read testimonials and stories from previous volunteers and do some research on the organisation you choose.
What Are the Types of Volunteer Tourism?
There are various types of volunteer tourism. These include Sports, Health, Disaster Relief and Development. These organizations help to raise funds and awareness of a cause or project, and they aim to improve the lives of local people. Many of these organizations target children, which is unacceptable. While some volunteer tourism organizations do make an effort to protect children, others take advantage of them and exploit them.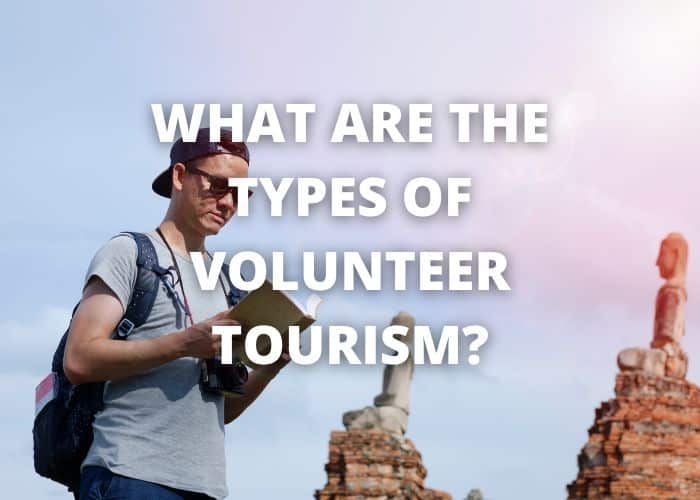 Education, Sports, Health, Disaster Relief and Development
Volunteer tourism has a range of positive impacts. Some of these include fostering community relations, improving education, and improving quality of life. It also fosters personal connections with locals. Volunteers form long-term relationships that can continue after they leave their project.
Voluntourism can also increase an individual's knowledge about international issues. It encourages appreciation for different cultures and people, and helps to foster civic engagement and respect. When done well, volunteer tourism can raise awareness about the conditions of other communities and motivate others to do the same.
While volunteer tourism can be a valuable experience, it can also have negative impacts. In some cases, volunteers' actions can promote racial and cultural stereotypes. Furthermore, it can promote the interests of powerful states or impose soft power agendas.
Volunteering abroad is a meaningful experience. Not only do you get to see different cultures and ways of life, but you also develop new skills. You will experience a new culture, make new friends, and improve your language skills. The experience can impact you for the rest of your life.
Education
Voluntourism for education has several important implications for education and marketing. Volunteering in the field can benefit local educators and create jobs for local workers, but it also risks contributing to the problem of child institutionalization. Some studies show that as many as 80 percent of children living in orphanages have at least one living parent.
Volunteering abroad can be a great way to meet new people and experience new cultures. The most effective volunteer experiences provide the opportunity to learn from and share skills with local residents. The most successful volunteers reflect that what they learned has surpassed what they contributed. Oftentimes, they find that they were able to apply what they've learned back home.
Volunteers with education backgrounds often bring a wealth of knowledge to a developing country, and are often more effective than local staff. In developing countries, skilled teachers and healthcare professionals are often in short supply, so volunteers can help fill that gap. Volunteers also help strengthen host organization systems by mentoring local staff and bringing fresh ideas and inspiration.
Volunteer tourism is becoming an increasingly popular form of travel. Many organisations offer short-term projects abroad that help communities in developing countries. Many volunteers pay around PS2,000 to participate, which covers food, lodging, and project materials. In addition, the host organisation typically makes a profit. Volunteer tourism is a great way to help local communities and the environment.
Volunteer tourism is a relatively new concept, but it's a growing sector of tourism. Organizations offering this type of service typically come from the nonprofit, public, and private sectors.
Sports
Sport volunteer tourism is the concept of using volunteers to support a particular sport event, such as a marathon or an Olympic event. Such tourism has the potential to enhance a local community, enhance a tourism industry, and enhance individual quality of life. However, further study is needed to fully understand this concept.
Volunteer tourism in sports is an emerging concept. This type of tourism combines volunteers with spectators and sports officials. It also involves non-paid individuals, such as coaches and athletes, who donate their time for a particular sport event. It is not limited to sports, however, and can be conducted for spiritual or philanthropic reasons.
The importance of volunteering for sports is increasing with the globalization of sport and the Olympic Games. These events have an international reputation and require a large number of volunteers. In addition to major cities, small nations and countries are hosting these mega events. In the Summer Olympics in Athens, Greece, 60,000 volunteers helped out. About 10% of those volunteers were sport volunteer tourists.
Volunteer tourism in sports is not without controversy. Many volunteers come with gifts for locals, which diverts revenue from local markets. In fact, Daniel Guttentag, the author of Volunteer Tourism: A Brief Introduction, has written about the potential negative impacts of volunteer tourism on local communities. He describes the work of Simpson in the article "The Impact of Volunteer Tourism on Local Communities
Sports volunteer tourism is a unique form of volunteer tourism, bringing people from all over the world to the same location to help host a sport event. These volunteers make it possible for mega events to be successful. The impact of these volunteer tourists is often underestimated, but they play a crucial role.
Health
Volunteer tourism helps people in different parts of the world build social capital, which is essential to a society's functioning. By merging cultures and communities, volunteer tourism projects foster relationships and mutual respect. According to studies by McGehee and Santos, volunteer tourism projects help to strengthen local communities through the development of trust, values, and friendships. Developing countries are facing social parities, so these projects help to eliminate these barriers.
Volunteers from developed nations can also make a difference in a developing country by providing much needed medical assistance. While many countries have health care systems that have been criticized for being unresponsive to local residents' needs, the local health staff can't always respond to every request or expectation. Additionally, volunteers' time can interfere with medical staff's responsibilities.
Volunteer projects can help reduce the occurrence of racism and social inequality. Volunteers have the opportunity to share their knowledge with locals, thereby reducing the possibility of racism or cultural sensitivity. While volunteering abroad, volunteers can also help the local economy by bringing money and resources to the host country. Further, the relationships formed with host communities can help foster personal development and enhance cultural sensitivity.
Volunteer programs can improve the lives of vulnerable children. Children living in orphanages are often exploited. They may not be truly orphaned, but are victims of poverty, disability, or discrimination. In some countries, short-term visits to orphanages can actually damage children's emotional development and cause them to develop separation anxiety.
Disaster relief and Development
Voluntourism has become a $173 billion industry, attracting eager travellers, students, and empty nesters to help those in need. While voluntourism is often rewarding, it can also pose risks for volunteers, especially if the volunteers do not have the necessary skills or local context. Volunteers should avoid taking on risks that may result in injury or death and seek organisational support before undertaking a project. Volunteers should also be educated about the culture and language of the country they are volunteering in.
Volunteer tourism in developing countries can help rebuild communities after natural disasters. Volunteers can help rebuild schools and homes, support non-government organizations, and help with sustainable agriculture. International tourists can also volunteer in post-disaster relief efforts. However, disaster relief and development volunteer tourism must be conducted properly.
Voluntourism in Japan is promoted by numerous NPOs, the Government of Japan, and major travel agencies. These tours not only help rebuild communities, but they also promote tourism as a vital form of disaster recovery. But the trend towards voluntourism may also undermine the benefits of post-disaster volunteering. Ultimately, the practice could trap parts of Tohoku in a permanent 'post-disaster' state.
Volunteer tourism isn't for everyone. While there are many positive aspects of this type of travel, it is also important to choose your volunteer assignment carefully. Voluntourism can be a great way to travel and see new places while engaging in self-less adventure. Many people find it rewarding to give back and find fulfillment by doing good deeds for others. However, there are negative aspects of international volunteerism that should be considered before participating.
Volunteers in Puerto Rico can help communities recover from recent natural disasters like Hurricane Maria and the upcoming earthquakes. Most volunteer programs focus on uplifting the most affected communities. For example, coffee farms are a vital part of the island's economy, and many local fishermen are struggling to navigate washed-out roads. In addition, many families are still living in tarps and tents.